Hugh Murray, violin (22)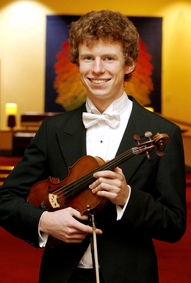 Hugh Murray, violin (22)
Studying in the Cork School of Music with Ruxandra Petcu
Hugh's biography
Hugh Murray from Cork is 22 years old and is in the third year of a BMus Degree in the CIT Cork School of Music. He began playing the violin at four years of age, and currently studies with Ruxandra Colan-Petcu. He is the leader of the Cork School of Music Symphony Orchestra, and next year will perform the Sibelius Violin Concerto with them in a series of concerts, having won the school's annual concerto competition. He also hopes to compete for the coveted Heineken Violin, and audition for the European
Union Youth Orchestra. Aside from music, Hugh has a keen interest in running. In five years Hugh hopes to be on the way to establishing an orchestral career, and, having recently performed
Tchaikovsky's Sextet 'Souvenir de Florence' and Schubert's Quintet in C, he also hopes to be playing chamber music professionally.
Blog Day 1 - Wednesday 10 November
Well I survived the first rehearsal. I was amazed at how efficent everything was, from punctuality to tuning up. I met my desk partner; Dara and the orchestra was introduced to Alan Buribayev, Principal Conductor who seemed very enthusiastic to be working with us. We worked through Bartok's Concerto for Orchestra and even the famously difficult last movement ran smoothly. Then a quick look at Respighi's Fountains of Rome in preperation for Thursday's rehearsal. It was a very enjoyable session, despite the hard work!
Blog Day 2 - Thursday 11 November
Arrived early to warm up and run through some of the tricker passagwork. Our rehearsal today started with work on the Respighi, before moving to the Bartok. We were joined by a class of secondary students who sat in on the rehearsal. Work today was quite detailed, deciding on various interpretations that were then finalised. Tchaikovsky's Rococo Variations requires a reduced orchestra so it was nice to finish early!
Blog Day 3 - Friday 12 November
Today was primarily a run-through of tonight's concert programme. We opened the rehearsal with the Respighi, and Alan Buribayev was clearly delighted with the results of his work. A small break for coffee and we launched into the Bartók. Once again the orchestra rehearsed the Tchaikovsky in the afternoon, leaving the students free to explore the city before our call for the concert.
As evening approached we donned our tailcoats and made our way backstage. What struck me was the relaxed atmosphere despite the difficulty of the works to be performed. Before I had time to even think of nerves, the door was opened and I found myself walking onto the brightly lit stage. The concert was a pleasure to play in, even the last movement of Bartók, the stuff of nightmares for violinists, was fantastic. There was a great sense of accomplishment as we stood to the final applause. I really enjoyed my time with the RTÉ NSO, and hope to be involved again in the future!

Follow Us:
You Tube
Next Performances
---
Links of Interest