Eneko O'Carroll, french horn (21)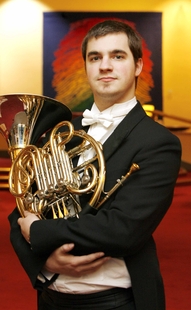 Eneko O'Carroll, french horn (21)
Studying in the Royal Irish Academy of Music with Victor Malirsh
Eneko's biography
Eneko Fintan O'Carroll is aged 21. Born in Dublin, with a Spanish and Irish background, his musical interest started with singing tunes to film music when he was very young, before moving on to the piano. He eventually moved on to the French horn, also his father's instrument. He is currently studying with Victor Malirsh (who was one of his father's teachers) and is in the fourth year of a degree in the Royal Irish Academy of Music. Eneko has a love of anything technological, and always tries to keep up with the latest gadgets. He has been messing around with computers since even before he could play the piano, which is pretty young! His aim is to start auditioning for orchestral roles very soon.
Blog from Days 1 & 2
After my first rehearsal I felt a lot more confident in not only my playing but even in asking questions, which benefitted me far more the second day. Unfortunately the second rehearsal was a lot shorter than the previous day so I wasn't able to make the most of it, though tomorrow (Friday) should hopefully relieve much of the pressure I've been feeling. So far I've benefitting a lot and I'm enjoying the experience.



Follow Us:
You Tube
Next Performances
---
Links of Interest