Deirdre Reddy, violin (22)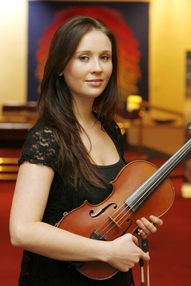 Deirdre Reddy, violin (22)
Studying in the DIT Conservatory of Music and Drama with Brian McNamara
Deirdre's biography
Deirdre Reddy began her violin and piano studies at the age of four. She won the junior prize-winner cup for violin at the Newpark Music Festival when she was 12. She has performed in Finland with the Leeson Park School of Music Orchestra and also worked with Géza and Csaba Szilvay, originators of the renowned Colourstrings method. In 2001 Deirdre began studying with Brian
McNamara at DIT Conservatory of Music and Drama. She has won prizes at the Feis Ceoil and also the Ita Beausang Cup in DIT. In October she made it to the semi-final of the Irish Freemasons Young Musician of the Year 2010 competition. Deirdre has performed with the National Youth Orchestra of Ireland and is currently receiving coaching from the RTÉ Vanbrugh Quartet. She is a final-year student on the BMus degree at DIT.
Blog Day 1 - Wednesday 10 November
I was a little nervous going into rehearsal today. I was worried about silly things like playing wrong notes or wrong bowing but by the end of the day it was not as daunting as I thought it would be. I have been put in desk 6 which is great because I am in the middle of everything thats going on. We began with the Bartók and after lunch we rehearsed the Respighi.
I found conductor Alan Buribayev brilliant to work with, he has a very colourful imagination and is really inspiring. I have a lovely desk partner Brona Fitzgerald who is always there to answer any questions I have. I think I will be a little more comfortable in tomorrows rehearsal and will have the courage to play out a bit more.
Blog Day 2 - Thursday 11 November
I felt a little more confident today and was able to play out a bit more. We rehearsed the Respighi first followed by the Bartok.I am really starting to understand these pieces a lot better than when I first listened to them. There are still some parts in the Bartok I am finding difficult to keep up to tempo, especially in the finale...my fingers are aching! I am looking forward to tomorrows rehearsal and very excited of course for the concert tomorrow night.
Blog Day 3 - Friday 12 November
After the morning's rehearsal I was confident that everything would go well that night, which it did.
The concert
The concert couldn't have gone better and I was on a high after coming off stage. I met my parents after the concert who said it was a brilliant night and that I looked like I had been playing with them for years which was nice to hear! My teacher Brian Mc Namara had been in the audience also and congratulated me on the night.
I would just like to take this opportunity to thank everyone involved in organizing the mentoring scheme for us students, and thank you to Principal Conductor, Alan Buribayev, RTÉ NSO Leader, Alan Smale and my desk partner, Brona Fitzgerald, for making it a lovely experience. I hope to be involved with this orchestra a lot more in the future.


Follow Us:
You Tube
Next Performances
---
Links of Interest