David Kenny, viola (20)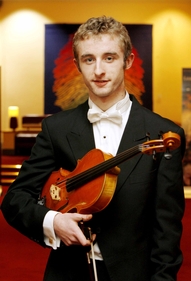 David Kenny, viola (20)
Studying in the Cork School of Music with Constantin Zanidache
David's biography
David Kenny is aged 20 and is currently completing his third year of a BMus Honours Degree at the Cork School Of Music under Constantin Zanidache. He has played with many orchestras including the National Youth Orchestra of Ireland, Cork School of Music Symphony Orchestra and Orchestre Symphonique de Jeunesse Musicales de Suisse. Since 2009 David has also been a member of the European Union Youth Orchestra. David was a finalist at the Yamaha Young Musician Bursary 2009 and a semi-finalist in the Camerata Ireland Young Musician of the Year 2008. He has taken masterclasses with Yuri Bashmet, Nobuko Imai and Bruno Giuranna. Aside from music David enjoys watching sport and flying light aircraft occasionally. In five years time he would hope to be a member of a professional orchestra.
Blog Day 1 - Wednesday 10 November
Our day started at 9am today. Before rehearsal all the mentoring scheme students gathered for a short video interview where we were asked to introduce ourselves and tell how we were feeling about the week ahead. After that we were able to go and warm up before rehearsal began at 10. I introduced myself to the viola principal and she told me where in the section I would be seated for the few days. The rehearsal began with the Bartók which we rehearsed for most of the day.
Blog Day 2 - Thursday 11 November
Rehearsal today began at 10am. As we did not rehearse the Respighi in detail on Wedneday we spent the majority of the morning on this work. I thought the conductor's interpretation of this work was really great. He helped the orchestra to create an array of many different colours and textures that I loved. Following the break we continued with the Bartok Concerto for Orchestra until lunchtime. As there was not enough time to rehearse the entire work we will continue with it in the morning. As the orchesrta is reduced for the Tchaikovsky my day finished at 1pm!
Blog Day 3 - Friday 12 November
As far as possible this morning's rehearsal was a play through of the evenings concert. When necessary the conductor rehearsed passages that needed small adjustments before the performance. We began with the Respighi and then played the Bartók.
While the reduced orchestra rehearsed the Tchaikovsky the mentoring scheme students were taken for a short video interview that discussed our thoughts and feelings about the few days which we had spent with the orchestra. Before the concert we had the afternoon off.
The concert
At 6.30pm we returned to the NCH for our last video interview of the week. The concert began at 8pm. I was a little nervous before we started playing but mostly I was very excited and looking forward to the concert. The concert itself went very well. It was such a great climax to what was a very memorable and enjoyable week.


Follow Us:
You Tube
Next Performances
---
Links of Interest