Catherine McHale, cello (23)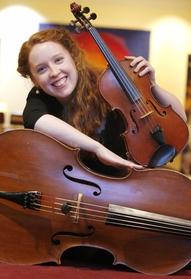 Catherine McHale, cello (23)
Studying in the Royal Irish Academy of Music with William Butt
Catherine's biography:
Born in 1987, Catherine McHale is originally from County Donegal. Her interest in music began at the age of six when she started learning piano, soon followed by cello lessons. She is presently a part-time scholarship student in the Royal Irish Academy of Music, studying cello under William Butt. In 2005 Catherine was awarded the Apple Hill 'Playing for Peace' scholarship (New Hampshire, USA). She has toured Asia, Europe and North America with various orchestras and is currently principal cellist of the Hibernian
Orchestra, Phoenix Orchestra and UCD Symphony Orchestra. Catherine is presently also completing a Masters in Structural Engineering in UCD with her research focusing on acoustic
analysis of performance spaces. After all these years she can still not decide whether to pursue a career in music or engineering!

Follow Us:
You Tube
Next Performances
---
Links of Interest