Anthony Mulholland, viola (21)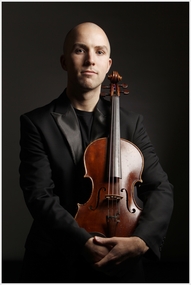 Anthony Mulholland, viola (21)
Studying in the Royal Irish Academy of Music with John Lynch
Anthony's biography
Anthony Mulholland was born in Dublin and began playing the violin at age seven. In his early teens, he took up the viola and continued studying both instruments until he finished school. Anthony is now in his second year of study with John Lynch on the BA in Music Performance at the Royal Irish Academy of Music. Anthony also studies conducting and is very much looking forward to working with the Trinity College Orchestra in March 2011. His hobbies include running, swimming and playing tag American football during the summers. In the future he hopes to be part of an orchestra or chamber ensemble as well as doing some conducting and teaching.
Blog Day 1 - Wednesday 10 September
9.00 : Arrived in to do some interviews for the video diary which felt a bit strange. It was odd that they're making such a fuss over us but as soon as they got it in front if the camera it was alright. Met the other students on the mentoring scheme and had a chat before heading onto the stage to warm up.
10.00 :The orchestra had just tuned up and I was feeling very nervous. So nervous in fact that I could barely count my rests. After a a few minutes and a few real opportunities to get into the string properly, the nerves settled and I began to feel more at home. My desk partner Erika was great. She made sure I was comfortable and was very nice about any mistakes I might have made.
The rest of the day went smoothly and we got suited up afterwards to take some photos with some of the players and the conductor.
A great day! Looking forward to tomorrow....
Blog Day 3 - Friday 12 November
I arrived in good and early for rehearsal so I could warm up properly. After working on the Bartók and running the Respighi (which went very well) we headed off to do more video interviews before grabbing some lunch in town.
The concert
We arrived back before the concert to record some more shots for the video diary and warm up. With the concert fast approaching I became quite nervous. As I walked out on stage I could see my family and friends in the audience which was very nice. To have people supporting you at the concert is great. Once Alan gave the first downbeat my nerves disappeared. The rest of the concert was a great experience for me. There was a fantastic energy on stage. Everyone played really well.
If the opportunity arises, I'd jump at the chance to participate in the mentoring scheme again. It was a very worthwhile experience!


Follow Us:
You Tube
Next Performances
---
Links of Interest