RTÉ National Symphony Orchestra Alan Buribayev in Action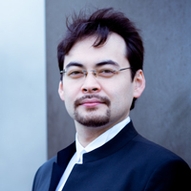 The inside track from the RTÉ National Symphony Orchestra's new Principal Conductor, Alan Buribayev
'Everything is done with a strong consideration of audience'.

So says Alan Buribayev, as he talks about the music he will conduct this season, his musical education in Kazakstan, being a Gemini, finding a match for Freddy Mercury and Queen and everything in double in Ireland!.
See him and hear him in our NEW ONLINE VIDEOS, including his first day's rehearsal as Principal Conductor!
Check back later this week for more!
Alan Buribayev on Alan Buribayev and the RTÉ NSO 2010-2011 Season!
Alan on the music he will conduct in the RTÉ NSO 2010-2011 season
Alan on his musical education in Kazakhstan and finding a match for Queen and Freddy Mercury!
Alan's first day as Principal Conductor of the RTÉ National Symphony Orchestra
Follow Us:
You Tube
Next Performances
---
Links of Interest