RTÉ National Symphony Orchestra 2011-2012 Season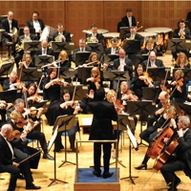 To view the RTÉ NSO 2011-2012 Season concerts simply click on the calendar on the right. The season runs from Friday 9 September until Sunday 27 May 2012. You can also download the season brochure here. Download the booking form for RTE NSO 2011-2012 Main Season packages here.
RTÉ is pleased to announce full details of the RTÉ National Symphony Orchestra's 2011-2012 Season. With a total of nearly 90 events, it includes Main Season evening and late night concerts, Musical Discovery events, a mentoring scheme for young musicians, Lunchtime Concerts including the Horizons Contemporary Music Series, open rehearsals and regional concerts and some special events.
The Main Season of over 70 events runs from Friday 9 September 2011 to Friday 25 May 2012 at the National Concert Hall. It has been extended from the Friday/New Year's Day slot to include performances on Sunday afternoons and a Tuesday early evening performance as part of RTÉ Big Music Week.
It has been designed to offer audiences a range of choices and access points, both in terms of programmes linked to repertoire first explored in 2010-2011 and that looking ahead to future seasons, featured artists and price.
PRICE AND VALUE
As with all RTÉ National Symphony Orchestra events, the focus on value, discounts and choice remains, with new and additional means of saving money and getting better value. Tickets are still from €10, discounts are now available for three or more concerts and many of the new events are free of charge. Read more
CONTINUING IN THE 2011-2012 MAIN SEASON:
. Themed strands built around the artistic team (Principal Conductor, Alan Buribayev; Principal Guest Conductor, Hannu Lintu; and Associate Artist, Finghin Collins), styles of performance (Soloist Directs), programme strands (Mozart piano concerti and French music) and large scale choral works.
. Soundings, the free series of talks, conversations and showcase events with season artists, composers and guests from other fields. Guests include the young orchestral musicians from the 2011 mentoring scheme in conversation with conductor Matthias Bamert, composer Kevin O'Connell, economist Constantin Gurdgiev, geriatrician Professor Des O'Neill discussing the connections between Molière and medicine, broadcaster and journalist Olivia O'Leary, NCH former Director, Judith Woodworth and RTÉ NSO musicians.
. Six Late Night concerts, back by popular demand following their introduction in 2010-2011 and free again in the new season to 8pm ticket holders. They include pianist Gabriela Montero improvising on the spot in response to audience requests, and solo Bach with violist Maxim Rysanov's own arrangement of Bach's Suite No. 3.
. The continuation of the 2011 Mentoring Scheme for Advanced Young Musicians as part of the Main Season, providing third-level instrumental students with the opportunity to audition, rehearse and perform with the RTÉ NSO and with conductors and soloists of international stature.
. FORTE! The Musical Discovery Programme led by Creative Advisor, Paul Rissmann, with a particular focus on young children and Leaving Certificate students.
NEW IN THE 2011-2012 MAIN SEASON
. The Wild Cards: New to Main Season programmes. Unannounced - and maybe unexpected - additions to selected programmes and, in the case of one Late Night concert, a full concert in itself. All designed to excite and attract.
HIGHLIGHTS IN THE 2011-2012 MAIN SEASON:
. Concerts celebrating birthdays and anniversaries:
o The opening concert of the season celebrates the 30th Anniversary of the National Concert Hall opening on 9 September 1981. This concert, featuring Mahler's Fifth Symphony, also celebrates the 100th anniversary of Mahler's death in 2011. Two additional Mahler symphonies - Symphony No. 6 in A minor, 'Tragic' and Symphony No. 4 in G, - feature later in the season.
o 2012 sees concerts marking the 150th anniversary of the births of Delius and Debussy and Mozart's birthday on 27 January.
. World premières of six works across the Main Season and Horizons, including two commissioned by RTÉ: a new work for electric guitar and orchestra by composer and jazz bassist Ronan Guilfoyle, and The Binding of the Years by Deirdre Gribbin, written especially for Finghin as the RTÉ NSO's Associate Artist.
. Performances by major artists such as pianists Alexander Toradze, Angela Hewitt and Barry Douglas, clarinettist Martin Fröst, cellists Julian Rachlin and Natalia Gutman, baritone Wolfgang Holzmair, percussionists Evelyn Glennie and Colin Currie, violinists Tasmin Little and Baiba Skride and conductors Paul McCreesh and Miguel Harth-Bedoya.
BEYOND THE SEASON 2011-2012:
. Special Event: Bach's Christmas Oratorio (Parts 1-6) performed over two nights (Fri 6 & Sat 7 Jan) in St Patrick's Cathedral, Dublin. It promises to be an atmospheric setting for Bach's sacred vocal music. A unique experience.
.Lunchtime concerts including the free Horizons Contemporary Music Series, in 2012 showcasing 'green shoot' composers, Karen Power and Garrett Sholdice as well as established figures, Kevin Volans and Ronan Guilfoyle.
. RTÉ NSO in Waterford: A February performance in Waterford under Principal Conductor Alan Buribayev, including the Delius Concerto for Violin and Cello - with RTÉ NSO Leader, Alan Smale, violin and RTÉ NSO Section Principal, Martin Johnson, cello - and Brahms Symphony No. 1.
. RTÉ NSO Spring Tour: An April tour to Galway, Limerick and Cork, with pianist Barry Douglas directing and conducting an all-Brahms programme including Piano Concerto No. 1.
DOWNLOADS:
RTE National Symphony Orchestra 2011-2012 Season brochure
RTE National Symphony Orchestra 2011-2012 Main Season package booking form
Follow Us:
You Tube
Next Performances
---
Links of Interest