RTE National Symphony Orchestra 2011 Mentoring Scheme for Advanced Young Musicians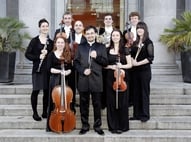 Eight of Ireland's leading young instrumental students, ranging in age from 19 to 23 and from counties Cork, Dublin, Galway and Kilkenny, have been selected to take part in the RTÉ National Symphony Orchestra's 2011 Mentoring Scheme for Advanced Young Musicians.
All eight will perform with the RTÉ NSO in 'Russian Colours' this Friday (4 November) at the National Concert Hall when Swiss conductor Matthias Bamert conducts Tchaikovsky's Symphony No. 6, 'Pathétique', Khachaturian's Violin Concerto in D minor with soloist Elaine Clark and the third of the season's new Wild Card surprise works.
The final eight are students of violin (3), viola (1), clarinet (1), trombone (1) and percussion (2). They are studying at the DIT Conservatory of Music and Drama, the Royal Irish Academy of Music and the CIT Cork School of Music at stages ranging from first year through to final year degree and include those who have recently graduated from third level programmes.
Five of the eight students are taking part in the scheme for the second year. At age 19, Rónán Scarlett from Clonsilla, Dublin, a percussion student on the first year of the B.A. Performance Degree at the Royal Irish Academy of Music taking part in the scheme for the first time, is the youngest of the eight participants and one of two percussionists on the scheme. Also taking part for the first time are Jane Hackett (20), violin, from Lucan, Co Dublin and Mary Morgan (22), trombone, from Glenamaddy, Co Galway. Those taking part for the second year are violinists Deirdre Reddy (23) from Rathfarnham, Dublin and Hugh Murray (23) from Douglas, Cork; violist David Kenny (21) from Cork; clarinettist Léonie Bluett (22) from Kilkenny, and percussionist Clare O'Keeffe (21) from Ballincollig, Co Cork. Full details below.
Selection for the scheme was on the basis of a full orchestral audition before a panel of key players from within the RTÉ NSO chaired by the soloist for 4 November, RTÉ NSO Co-leader, Elaine Clark. The RTÉ NSO panel was Colm Byrne, Principal Trumpet; Bethan Watkeys, Principal French Horn; Matthew Billing, Principal Clarinet; Sinéad Farrell, Principal Piccolo and Roger Moffatt, Sub-Principal Percussion.
The RTÉ NSO Mentoring Scheme aims to reach out to advanced instrumental students at third level colleges in Dublin, Cork, Waterford and Belfast offering them the opportunity to audition, rehearse and perform with Ireland's only professional symphony orchestra and with conductors and soloists of international stature. Feedback from RTÉ NSO players to the young musicians in relation to orchestral rehearsal and performance is a major element of the mentoring process.
Four of this year's participants are studying at the Royal Irish Academy of Music in Dublin. Speaking of the importance of the scheme, RIAM Director Deborah Kelleher said "The RTÉ National Symphony Orchestra's mentoring scheme is one of the most important outreach initiatives developed by the orchestra. The opportunity for our students to perform with seasoned professionals in a supported environment creates a meaningful transition between education and real life. Thank you RTÉ NSO management, and more specifically, thanks to the RTÉ NSO musicians who sit side by side with these young players, giving so generously of their time and experience over the rehearsal and performance period."
Commenting on this year's scheme, Christine Lee, RTÉ NSO General Manager said: "The annual Mentoring Concert in the RTÉ NSO's subscription series is a highlight for all of us within the orchestra. Following the success of last year's concert under our Principal Conductor Alan Buribayev, we warmly welcome this year's students onto the stage to rehearse and perform with the renowned international conductor Matthias Bamert who is this season celebrating his 70th birthday. Matthias himself began his conducting career under a mentorship with the famous Leopold Stokowski - famed for his orchestral transcriptions and Walt Disney's Fantasia - so we have chosen him specifically for the Mentoring Concert knowing how he will inspire these young students. We look forward to this highly colourful programme and a memorable evening of music-making from these young players working as part of RTÉ NSO.
Full details on the concert

Find out more about the students from 2011.
Follow Us:
You Tube
Next Performances
---
Links of Interest