Carl Davis: A short biography for a very busy man...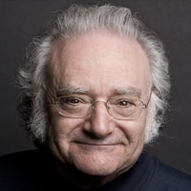 Recent and future highlights include the US premiere of Abel Gance's 1927 silent movie Napoleon, scored and conducted by Davis (San Francisco Film Festival) to be performed with the Philharmonia Orchestra in November (Royal Festival Hall), the UK premiere of his ballet Aladdin, music for the BBC's most recent Upstairs Downstairs (nominated for a Novello Award for Best Television Soundtrack), a large-scale commission Last Train to Tomorrow on the subject of the Kindertransport (Hallé Orchestra and Children's Choir), the release of his new score for The Freshman on Blu-Ray (Criterion Collection) and concerts across the Globe.
Carl's work as composer includes numerous scores for ballets, operas and many concert suites derived from film scores, vocal music, choral works, instrumental and chamber music.
His collaboration with Paul McCartney on his Liverpool Oratorio has been performed worldwide and received record sales (available on EMI).
Film and Television scores include The World At War, The Snow Goose, Champions, The French Lieutenant's Woman (winner of BAFTA and Ivor Novello awards), Pride and Prejudice (nominated for a BASCA Ivor Novello award for Best Music for a Television Production), and Cranford (also BBC).
Scores for more than fifty silent films include Ben-Hur, The Thief of Bagdad and The General, and Chaplin's Mutuals - a cycle of 12 shorts all with original Davis music.
Back to concert page for Hollywood Greats on Friday 5 July.

Follow Us:
You Tube
Next Performances
---
Links of Interest