Arvo Pärt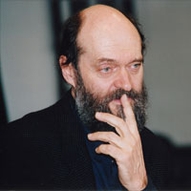 Arvo Pärt is one of the world's most popular living composers. Born in 1935 in Paide, Estonia (then part of the Soviet Union), he studied composition with Heino Eller in Tallinn and worked from 1958 to 1967 as a sound engineer for Estonian Radio. In 1980 he emigrated with his family to Vienna and, one year later, to Berlin, where he has lived ever since. His early compositions exhibited neo-classical and serialist characteristics, but in the late 1960s he entered a period of creative reflection and near silence, studying plainsong, Gregorian chant and Renaissance polyphony. It was also during this period that he joined the Russian Orthodox Church.
With the 1976 piano miniature, Für Alina, Pärt emerged with a new musical style that he has named 'tintinnabuli', meaning 'like the ringing of bells'. Characterised by a reduction of sound material and simplicity of harmony, rhythm and tempo, this middle period is exemplified by works such as Tabula Rasa and Fratres (1977), Cantus in Memory of Benjamin Britten (1977-80) and Spiegel im Spiegel (1978). Pärt's later works have demonstrated an interest in the setting of sacred texts and include Passio (1982), the Magnificat (1989), the Berliner Messe (1990-2002), and Da Pacem Domine (2004). All of the works named above will be performed in this year's RTÉ Living Music Festival.
Pärt's popularity in the West was given impetus in the 1980s when ECM released a number of his works. He received five Grammy nominations between 1989 and 2003, winning the Grammy for Best Choral Recording in 2007 for Da Pacem, and was named 'Composer of the Year' by Musical America in 2005. His music has been used in over 50 films, including Michael Moore's Fahrenheit 9/11, Kevin MacDonald's Touching the Void and Léos Carax's Les Amants du Pont-Neuf (starring Juliette Binoche).
Arvo Pärt will attend the festival, and writes: 'I am very honoured and grateful to be a guest at the RTÉ Living Music Festival and for the attention that is being given to my music. I am looking forward to my first visit to Ireland with much anticipation and excitement. I am eager to learn more about the country that has managed in an astonishing way to keep its historical, cultural and religious identities until today.'
For more information on Arvo Pärt please click here.
Follow Us:
Next Performances
---
Links of Interest