Our Choral Team 2012 /13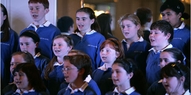 MARY AMOND O'BRIEN
We are delighted to announce the appointment of Mary Amond O'Brien as RTÉ Cór na nÓg's new Choral Director from September 2011, succeeding Máire Mannion who held the post since 2003.
A native of Carlow and former international athlete, Mary began her career in choral music education in 1997 with the formation of Aspiro. This world class choir has an outstanding track record, both nationally and internationally, wining numerous awards at Ireland's major choral festivals.
Mary has studied with many world renowned choral specialists including Dr. Doreen Rao, founder/director of the American Choral Music Experience Institute for Choral Teacher Education, and James Jordan of Westminster Choir College [US].
She has received numerous awards from the Arts Council of Ireland in support of her commitment to choral music education. Her most recent honour was the Carlow People of the Year Awards for 2010 in the Arts & Music category.
A skilled choral specialist, Mary is much in demand as a guest director and workshop facilitator from various organisations and choirs throughout the country. Mary has also composed and arranged works for Aspiro and the national Alive O programme.
DEVON MacGILLIVRAY music assistant
Devon MacGillivray was born in Boston, MA to a family of musicians and was offered a full tuition scholarship to study music at the University of Massachusetts. She moved to Ireland with her husband in 2003 and took up the position of Music Assistant with RTÉ Cór na nÓg in 2005. Devon spends the rest of her time performing and teaching violin.
ALISON THOMAS pianist
Alison holds a Master of Music degree in piano performance specialising in accompaniment from the University of Maryland and has been accompanist for RTÉ Cór na nÓg since 1999. She is also a regular guest keyboard player with the RTÉ National Symphony Orchestra, teaches at the Royal Irish Academy of Music and the D.I.T. Conservatory of Music and is Performance Co-Ordinator in the School of Music, Trinity College, Dublin. Her recital work includes performances with The National Chamber Choir, Bank of Ireland Recital Series and the Hugh Lane Gallery Sundays at Noon concerts and she has performed throughout Ireland, UK, America and Russia.
Lesley Bishop - RTÉ choral and chamber music officer
Georgina Martin - choral steward
Follow Us:
Next Performances
---
Links of Interest