Our Choral Team 2014 /15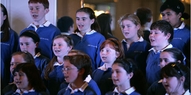 Mary Amond O'Brien: Choral Director
A native of Carlow and former international athlete, Mary began her career in choral music education there in 1997 with the formation of Aspiro choir. Mary has studied with many world renowned choral specialists including Dr. Doreen Rao founder/director of the American Choral Music Experience Institute for Choral Teacher Education and James Jordan of Westminster Choir College [US]. She has received numerous awards from the Arts Council of Ireland in support of her commitment to choral music education. Her most recent honour was The Carlow People of the Year Awards for 2010 for the Arts & Music category. A skilled choral specialist, Mary is much in demand as a guest director and workshop facilitator from various organisations and choirs throughout the country and has also written and arranged works for Aspiro and the national Alive O programme.
Mary was appointed Choral Director of RTÉ Cór na nÓg in September 2011.

Lynsey Callaghan: Music Assistant
Lynsey is currently undertaking a master's in performance (conducting) at the Royal Irish Academy of Music, in conjunction with Trinity College, Dublin. She recently graduated from The DIT Conservatory of Music and Drama and Trinity College with a degree in Music Education. She has studied conducting both in Ireland and in the Zoltán Kodály Institute of the Liszt Academy of Music in Kecskemét, Hungary. Lynsey is Conductor in Training 2012-14 for the RTÉ Cór na nÓg, RTÉ Philharmonic Choir and the AOIC. She has also conducted the Irish Youth Choir, Trinity Singers, and the Irish Youth Chamber Choir in various performances, including a joint performance with the Ulster Youth Choir.

Alison Thomas: Pianist
Alison Thomas has held the role of pianist with RTÉ Cór na nÓg since 1999. Since then she has accompanied the choir at concerts throughout Ireland and the UK and has recorded with them on numerous occasions. Alison is a frequent deputy keyboard player with the RTÉ National Symphony Orchestra and the RTÉ Concert Orchestra. A much sought after accompanist, her work with choral ensembles includes performances with the National Chamber Choir and Dublin Bach Singers as well as AOIC choral workshops. She performs with several school choirs and enjoys a special relationship with Ceiliúr, the choir of Loreto College, St. Stephen's Green. Alison is an assistant lecturer with the DIT Conservatory of Music and Drama.

Lesley Bishop: RTÉ Choral & Chamber Music Officer
Lesley joined the RTÉ National Symphony Orchestra as their Principal Horn in 1982, moving to the post of RTÉ Choral and Chamber Music Officer in September 2010. She is responsible for the RTÉ Philharmonic Choir and the RTÉ Contempo Quartet in addition to RTÉ Cór na nÓg.

Connie Martin: Choral Steward:
Connie is a former member of RTÉ Cór na nÓg and is now studying medicinal chemistry in DIT. She has always loved music, learning violin and piano as a child, and continues to perform, particularly in musicals, taking lead roles in Wesley College productions of Footloose and Hairspray.



Follow Us:
Next Performances
---
Links of Interest