Meet RTÉ Cór na nÓg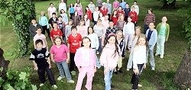 Mary Amond O'Brien - Choral Director
Lynsey Callaghan - Music Assistant
Alison Thomas - Pianist
RTÉ Cór na nÓg, one of the five RTÉ performing groups, was founded by Colin Mawby in 1987 and consists of over 65 children aged 10 and upwards, from all parts of Dublin and surrounding counties. Appointed as Music Director in September 2011, Mary Amond O'Brien and her team provide excellent musical training with a strong emphasis on the enjoyment of music-making as well as hard work and commitment. Their unique relationship with RTÉ leads to varied and exciting performance opportunities with regular broadcasts on national radio and television, and collaborations with artists of the highest calibre.
In recent years the choir has sung for RTÉ lyric fm, RTÉ Radio 1, the Late Late Toy Show, Mass on Sunday and Fair City, performing with artists such as Andre Rieu and the Three Tenors Ireland, in the National Concert Hall, the O2 Arena, St Patrick's Cathedral and Áras an Uachtarain. Recent engagements have seen performances of the acclaimed Ballymun Lullaby in Cork and Dublin with a combined choir of over 200 children from both cities and a concert of Howard Shore's Lord of the Rings Suite with the RTÉ Concert Orchestra. Concerts in their 2014-15 season include Bach's St Matthew Passion on Good Friday, 3 April at 3.30pm in the NCH with the RTÉ Philharmonic Choir, the RTÉ National Symphony Orchestra and a host of international soloists, conducted by Robert Howarth
Recordings include Gerard Victory's Ultima Rerum, the highly praised CD/video Faith of Our Fathers, a CD of Christmas music produced for RTÉ lyric fm and the RTÉ Guide and the Choirs for Christmas CD for RTÉ lyric fm (2012).
AUDITIONS: RTÉ Cór na nÓg begins its audition application process each January holding auditions in early March, usually in the RTÉ Radio Centre, Donnybrook, Dublin 4. Children will be asked to prepare a short, set piece to learn via the web link provided, plus ear and range tests. No other piece of music is required and the audition will take around 10 minutes. Successful children in the preliminary rounds must be available to attend the Training Choir which runs on six Saturday mornings between March and May. Places for the September intake of RTÉ Cór na nÓg are filled from this group. Children need to be aged between 10 and 13 in September 2015 with boy's voices un-broken. Please note that membership of the Training Choir does not automatically guarantee a place in RTÉ Cór na nóg.
We do not audition at other times during the year.
Closing date for 2015 applications is Friday 6th February at 5pm.
If you need further information, please contact:
Lesley Bishop,
Choral and Chamber Music Officer, RTÉ Orchestras, Quartet and Choirs,
RTÉ, Donnybrook,
Dublin 4
01 208 2977
lesley.bishop@rte.ie

We also have a facebook page, so please "like" us!

Follow Us:
Next Performances
---
Links of Interest