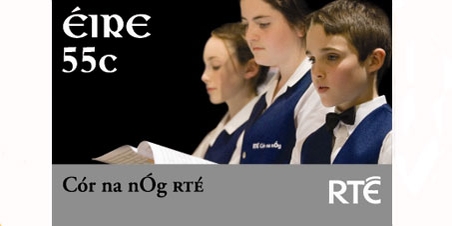 An Post's RTÉ Cór na nÓg commemorative stamp
Part of a 5 stamp series launched by An Post in summer 2007
News & Events

Meet our new Music Assistant , Niall Kinsella!
Former choir member Niall Kinsella will take over from Lynsey Callaghan as our new Music Assistant from September 2015
+More Information
OUR ANNUAL ST PATRICK'S DAY CONCERT in Dublin, 4pm, Tuesday 17 March
Every year the choir gives a free family concert in Dublin on our National Holiday, 17 March, and it would be great to see you there!
+More Information
RTÉ Cór na nÓg AUDITIONS 2016
Auditions for the September 2016 intake of new members will be held in Dublin during February 2016 - information about the audition process and Training Choir below...!
+More Information
Follow Us:
Next Performances
---
Links of Interest