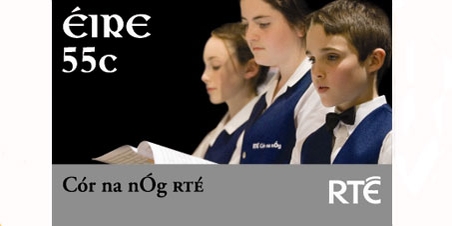 An Post's RTÉ Cór na nÓg commemorative stamp
Part of a 5 stamp series launched by An Post in summer 2007
News & Events
OUR ANNUAL ST PATRICK'S DAY CONCERT in Dublin, 4pm, Tuesday 17 March
Every year the choir gives a free family concert in Dublin on our National Holiday, 17 March, and it would be great to see you there!
+More Information
RTÉ Cór na nÓg AUDITIONS 2015
Auditions for the September 2015 intake of new members will be held shortly in Dublin - information about the audition process and Training Choir below...!
+More Information
Annual Christmas Concert in St Ann's Church, 6pm, 12 December 2014
The choir will be gathering in St Ann's Church, Dawson Street, Dublin 2, for its traditional Christmas Concert and hopes to meet up with many past members who often attend and sing along!
+More Information
Follow Us:
Next Performances
---
Links of Interest