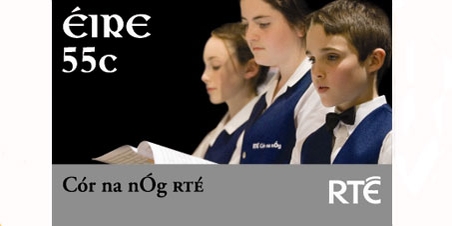 An Post's RTÉ Cór na nÓg commemorative stamp
Part of a 5 stamp series launched by An Post in summer 2007
News & Events
Exciting new 2014-15 season for RTÉ Cór na nÓg
The choir heads into another busy and challenging 2014-15 season, with concerts in St Patrick's Cathedral and the National Concert Hall to look forward to.
+More Information
St Patrick's Day 2014
RTÉ Cór na nÓg are delighted to be included in the 'I Love my City' events as part of St Patrick's Festival and will perform in their annual St Patrick's Day family concert in St Ann's Church, Dawson Street, Dublin 2 on Monday March 17th at 4pm. Conducted by Mary Amond O'Brien and accompanied by Alison Thomas (piano) with guest artist Des Lacey (percussion), they will sing a selection of traditional Irish favourites as well as music from around the world. It's a great way to celebrate the day and the festivities in town, the concert lasts about an hour and admission is FREE! This is a non-ticketed event so arrive early to ensure entry. Facebook: RTÉ Cór na nÓg Facebook
+More Information
Do you have a child who loves to sing?
RTÉ Cór na nÓg audition and general information for 2014 applications.
+More Information
Follow Us:
Next Performances
---
Links of Interest