Events
Hello Jerry! The Music of Jerry Herman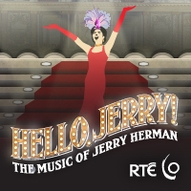 Friday 22nd. Also Saturday 23rd August, 8pm
National Concert Hall
RTÉ CONCERT ORCHESTRA & CHORUS
JOHN WILSON, CONDUCTOR
KIM CRISWELL
ANNALENE BEECHEY
JOSH PRINCE
TOM SOLOMON
SUZIE MATHERS
DAVE WILLETTS

Tonight you can expect the unmistakable pizzazz that conductor John Wilson never fails to elicit from the RTÉ Concert Orchestra. This time it's music from the spectacular Broadway musicals of twice Tony Award winner Jerry Herman.
Featuring all of the music from Hello, Dolly! as well as show-stopping hits from Mame, Mack & Mabel and La cage aux folles.
The credits this evening reads like a 'Who's Who' of Broadway and West End stars. Kim Criswell - the redhead who oozes showbiz, theatricality and that voice - is joined by Annalene Beechey and other outstanding performers as well as a top notch chorus.
Programme
It's Today (Mame)
I'll Be Here Tomorrow (The Grand Tour)
I've Never Said I Love You (Dear World)
Movies Were Movies (Mack & Mabel)
Look What Happened to Mabel (Mack & Mabel)
I Won't Send Roses (Mack & Mabel)
Where in the World is My Prince? (Miss Spectacular)
Look Over There (La Cage aux Folles)
If He Walked Into My Life (Mame)
I Am What I Am (La Cage aux Folles)
The Best of Times (La Cage aux Folles)

Hello, Dolly! - with narrative written for this performance by Simon Butteriss
Prelude
Just Leave Everything to Me
It Takes a Woman
Put On Your Sunday Clothes
Ribbons Down My Back
Dancing
Before the Parade Passes By
Elegance
Love Is Only Love
Hello, Dolly!
It Only Takes a Moment
So Long, Dearie
Finale
Tickets: €15-€40 (conc. €13-€36)
Booking: 01 417 0000 or online.
No booking fees apply.10% discount for groups of 10 or more.
RTÉ CO E-Newsletter
Follow Us:
You Tube
Next Performances
---
Links of Interest