Events
Dial M for Murder: Best of Hitchcock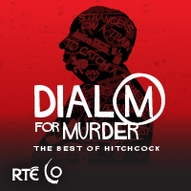 Friday 15th August, 8pm
National Concert Hall
RTÉ Concert Orchestra
Presented by Sean Moncrieff
Neil Thomson, conductor

The suspense, mistaken identity and sinister plots of Alfred Hitchcock.
Watch all of the best bits from Hitchcock's famous films on the big screen while at the same time the RTÉ Concert Orchestra performs the scores live on stage. Featuring the films To Catch a Thief (Lyn Murray), Strangers on a Train (Dimitri Tiomkin), Dial M for Murder (Dimitri Tiomkin) and North by Northwest (Bernard Herrmann).
Warning: You'll never want to see a film the old way again.
Tickets: €15-€40 (conc. €13-€36)
Booking: 01 417 0000 or online.
No booking fees apply. 10% discount for groups of 10 or more.

RTÉ CO E-Newsletter
Follow Us:
You Tube
Next Performances
---
Links of Interest