Events
RTÉ NSO Summer Lunchtime Concert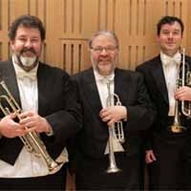 TUESDAY 8 JULY 1.05pm
NATIONAL CONCERT HALL
SOUND THE TRUMPETS!
Cimarosa The Secret Marriage Overture (8')
Vivaldi Concerto for Two Trumpets in C, RV537 (7')
Mendelssohn A Midsummer Night's Dream Intermezzo (4')
Mendelssohn A Midsummer Night's Dream Scherzo (5')
Adams Tromba Lontana (4')
Anderson Bugler's Holiday (3')
Shostakovich Ballet Suite No. 1 (14')
Graham Hastings, trumpet
Killyan Bannister, trumpet
Colm Byrne, trumpet
Andrew Mogrelia, conductor
Presented by Niall Carroll, RTÉ lyric fm
The Trumpet Section of the RTÉ National Symphony Orchestra takes centre stage for a tribute to the prince of brass instruments, with Vivaldi's bright, resounding Concerto for Two Trumpets, John Adams' haunting Tromba Lontana and Leroy Anderson's joyfully effervescent Bugler's Holiday. The Overture to Cimarosa's The Secret Marriage and Intermezzo and Scherzo from Mendelssohn's A Midsummer Night's Dream add stately wit and dreamy fantasy, with Shostakovich's First Ballet Suite a brilliantly orchestrated display of dancing delicacy and slap-stick charm.
TICKETS: €10 | Grab&go Lunch: €5 (sandwich or wrap with tea/coffee). Lunch voucher must be pre-purchased at box-office at time of booking.
BOOKING (no booking fees): 01 417 0000 | ONLINE
Can't make the live concert? This concert will be broadcast live on RTÉ lyric fm, 96-99fm within Niall Carroll's Classical Daytime (10am -2 pm).
Follow Us:
Next Performances
---
Links of Interest