Events
The Final Frontier: Sci-fi & Fantasy Blockbusters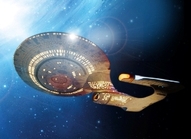 The Final Frontier: Sci-fi & Fantasy Blockbusters
Friday 9 May, 8pm
National Concert Hall
Space.The Final Frontier...
Since the dawn of time, man has been fascinated by the night sky. The perennial question 'Is there anybody out there?' might never be answered but that has not stopped storytellers and film-makers exploring the possible and the probable.
These epic canvases require epic scores. Join the RTÉ Concert Orchestra for an unforgettable concert, as she voyages through blockbuster sci-fi scores including 2001: A Space Odyssey, Star Trek, Star Wars, Avatar, Alien, Independence Day, Capricorn One, The Rocketeer and more.
Programme
Richard Strauss Sunrise from Also Sprach Zarathustra
Jerry Goldsmith Star Trek 1 The Motion Picture Theme
David Arnold Stargate Suite
Jerry Goldsmith Capricorn 1
James Horner The Rocketeer - To The Rescue (End Title)
James Horner Avatar Suite
Jerry Goldsmith Total Recall
Jerry Goldsmith Star Trek 5 The Final Frontier
Jerry Goldsmith Star Trek 8 First Contact
John Williams Across the Stars: Star Wars Episode II
Jerry Goldsmith Alien End Title
Jerry Goldsmith Star Trek 10: Nemesis
Jerry Goldsmith Planet of the Apes Suite
David Arnold Independence Day Suite
John Williams Star Wars: Phantom Menace Suite
(Flag Parade, Anakin's Theme, Adventures of JarJar, Duel of the Fates)


Tickets: €11-€38 (conc. €10-€35)
Booking: 01 417 0000 or online.
No booking fees apply.10% discount for groups of 10 or more.

RTÉ CO E-Newsletter
Follow Us:
You Tube
Next Performances
---
Links of Interest