Events
RTÉ National Symphony Orchestra 2013-2014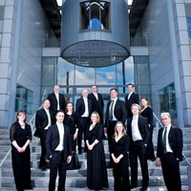 TUDOR CHURCH MUSIC
GOOD FRIDAY 18 APRIL, 1.30pm
NATIONAL CONCERT HALL
ORLANDO GIBBONS O clap your hands together
WILLIAM BYRD Prevent us O Lord
WILLIAM BYRD Mass for four voices: Kyrie & Gloria
THOMAS TALLIS Lamentations of Jeremiah, 1st set (ATTBB))
THOMAS TALLIS O nata lux de lumine
THOMAS TALLIS Salvator mundi
JOHN TAVERNER In sorrow and adversity
WILLIAM BYRD Mass for four voices: Sanctus & Benedictus
WILLIAM BYRD Mass for four voices: Agnus Dei

Chamber Choir Ireland
Paul Hillier conductor
A portrait in sound of the golden age of English music, centred around two masterpieces of the period: William Byrd's Mass for 4 voices and the Lamentations of Jeremiah by Thomas Tallis together with motets and anthems by Gibbons, Byrd, Tallis and Taverner.
Programme change: Orlando Gibbon's O clap your hands together replaces William Byrd Mass for four voices: Credo and Robert Parsons Ave Maria. Thomas Morley's Nolo mortem peccatoris will not be performed as originally advertised.

Chamber Choir Ireland, in collaboration with the RTÉ National Symphony Orchestra. Linked to RTÉ National Symphony Orchestra 3.30pm Main Season Concert.
Tickets: €5 or FREE if attending the RTÉ National Symphony Orchestra's 3.30pm performance.
Please note: separate ticket required for both performances. Enquire when booking. Seating is unreserved.
Booking: (no fees): 01 417 0000 | www.nch.ie | www.rte.ie/nso

Follow Us:
Next Performances
---
Links of Interest