Events
John Wilson conducts Essential Classics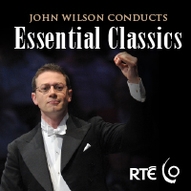 John Wilson conducts Essential Classics
Thursday 27 February, 8pm
National Concert Hall
Leon McCawley - pianist
Join the RTÉ Concert Orchestra and conductor John Wilson for a journey through some of world's greatest - and most adored - classical music.
Featuring Rachmaninov's powerfully romantic 2nd Piano Concerto, known from its use in Brief Encounter, Barber's Adagio for Strings, used in Platoon, Stravinsky's scintillating Firebird Suite, Rossini's William Tell Overture and more.
Programme
Rossini William Tell Overture
Debussy Prélude à l'après-midi d'un faune
Rachmaninov Piano Concerto No.2
Lehár Gold and Silver Waltz
Barber Adagio for Strings
Stravinsky The Firebird Suite (1919 version)
Tickets: €11-€38 (conc. €10-€35)
Booking: 01 417 0000 or online No booking fees apply.10% discount for groups of 10 or more.

RTÉ CO E-Newsletter
Follow Us:
You Tube
Next Performances
---
Links of Interest