Events
Opera's Greatest Choruses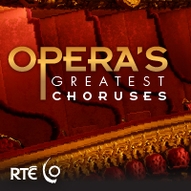 RTÉ Concert Orchestra and the RTÉ Philharmonic Choir
Featuring mezzo SHARON CARTY, soprano MAIREAD BUICKE and baritone MARK HOLLAND.
Neil Thomson conductor
Friday 7 February, 8pm
The Helix
In this magnificent feast for aficionados and first-timers alike, some of the world's most famous and powerful opera choruses are brought to life. Over 150 musicians and singers from the RTÉ Concert Orchestra and RTÉ Philharmonic Choir fill the stage and balcony and are joined by world-class soloists including young Irish star mezzo-soprano Sharon Carty.
Popular favourites like March of the Toreadors and Habanera from Carmen, the Polovtsian Dances from Prince Igor and the Te Deum from Tosca, with orchestral showpieces like the rousing William Tell Overture and the gorgeous Intermezzo from Cavalleria Rusticana added for good measure.
Tonight, from the balconies to the mezzanine, the Helix auditorium resonates with strings, woodwinds, brass, percussion, three great solo voices and the rich textures of the impressive RTÉ Philharmonic Choir.
PROGRAMME:
Rossini William Tell Overture
Bizet Prelude & Aragonaise, Intermezzo, Seguidilla from Carmen Suite No.1
Bizet Habanera from Carmen
Bizet March of the Toreadors from Carmen
Mussorgsky (arr. Rimsky-Korsakov) Night on Bald Mountain
Mussorgsky Coronation Scene from Boris Godunov
Borodin Polovstsian Dances from Prince Igor
Mascagni Intermezzo from Cavalleria Rusticana
Mascagni Easter Hymn from Cavalleria Rusticana
Tchaikovsky Cossack Dance from Mazeppa
Tchaikovsky Entracte & Waltz Scene with Chorus from Eugene Onegin
Puccini Te Deum from Tosca
Tickets: €11-€38 (telephone and internet bookings subject to €2 service charge per ticket; bookings made in person at the box office subject to €1 service charge per ticket)
Discounts: 20% Group Discount available for groups of 4 or more
Concessions available
Booking: 01 700 7000 or www.thehelix.ie

RTÉ CO E-Newsletter
Follow Us:
You Tube
Next Performances
---
Links of Interest