Events
The Wizard of Oz - Evening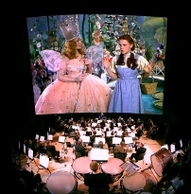 RTÉ Concert Orchestra Movie Screening: The Wizard of Oz
Saturday December 14th, 3.30pm and 7.30pm
National Concert Hall
Click here for the matinee show
Back by popular demand - a screening of The Wizard of Oz complete with original dialogue and singing accompanied by a live performance of the orchestral score by the RTÉ Concert Orchestra!
This MGM family favourite is packed with images, characters, lines and songs that resonate with us all - the Yellow Brick Road, Dorothy and Toto, Over the Rainbow, 'There's no place like home.' The ultimate way to experience one of the all-time classics!
With the surround-sound of the full orchestra on stage, you will feel like you are right there in the middle of Dorothy and Toto's adventure in Oz.
Tickets: €25-€35 (conc. €23-€33)
10% discount for groups of 10 or more
No booking fees apply
Booking: 01 417 0000 or online
RTÉ CO E-Newsletter
Follow Us:
You Tube
Next Performances
---
Links of Interest