Events
Essential Opera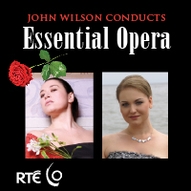 Thursday 19 September, 8pm
National Concert Hall
RTÉ Concert Orchestra
TOP INTERNATIONAL SOLOISTS:
Maria Luigia Borsi - soprano
Kai Rüütel - mezzo-soprano
Jesús León - tenor
John Wilson - conductor
'... Gifted with vocal incisiveness and intensity, rare beauty of colours and musicality.....harmonious expression and emotional participation to spare....'
- Lanfranco Visconti (Gli Amici della Musica) on Maria Luigia Borsi
A gala evening of the world's finest arias, duets, overtures and intermezzos, carefully selected for inclusion in this "operatic chocolate box".
Gems like La donna è mobile, Mon coeur s'ouvre à ta voix, The Barber of Seville Overture, Habanera from Carmen and so many more powerful masterpieces in between.
Tonight you are in good company with tenor Jesús León, Italian soprano Maria Luigia Borsi and mezzo-soprano Kai Rüütel joining charismatic conductor John Wilson.
Verdi La forza del destino Overture
Verdi 'Pace, pace, mio Dio' from La forza del destino
Verdi 'La donna è mobile' from Rigoletto
Bizet Habanera from Carmen
Massenet Méditation from Thaïs
Massenet 'Werther! Werther! Qui m'aurait dit la place' from Werther
Puccini Madama Butterfly Act 1 Finale ('Viene la sera')
Rossini The Barber of Seville Overture
Donizetti 'Il segreto per esser felici' from Lucrezia Borgia
Puccini 'E lucevan le stelle' from Tosca
Catalani 'Ebben? Ne andro lontana' from La Wally
Ponchielli Dance of the Hours from La Gioconda
Saint-Saëns 'Mon coeur s'ouvre à ta voix' from Samson et Dalila
Puccini La bohème Act 1 Finale ('Che gelida manina')

Tickets: €15-€40 (conc. €13-€36)
10% discount for groups of 10 or more
No booking fees apply
Booking: 01 417 0000 or online

RTÉ CO E-Newsletter
Follow Us:
You Tube
Next Performances
---
Links of Interest