Events
The Three Sopranos Summer Gala on Tour: GALWAY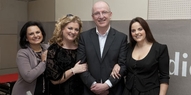 RTÉ National Symphony Orchestra presents
The Three Sopranos Summer Gala on Tour
In association with The John Murray Show, RTÉ Radio 1

AN EVENING OF OPERATIC AND ORCHESTRAL FAVOURITES
Wednesday 5 June, 8.00pm
Leisureland GALWAY
Celine Byrne soprano
Regina Nathan soprano
Cara O'Sullivan soprano
John Finucane conductor
Presenter Kathryn Thomas, RTÉ Radio 1
Summer time, and the living will be hot, steamy, passionate, tearful, tragic and exhilarating as Celine Byrne, Regina Nathan and Cara O'Sullivan - three of Ireland's finest sopranos - the RTÉ National Symphony Orchestra and the John Murray Show, RTÉ Radio 1, reunite for the first Irish tour of The Three Sopranos Summer Gala in June. One night only in Galway, Limerick, Cork and Waterford (Wednesday 5 June to Saturday 8 June inclusive) with RTÉ Radio 1's Kathryn Thomas presenting on stage for the John Murray Show. John Finucane conducts.
With solos, duets and specially arranged trios, the tour promises some of opera's most memorable and moving songs and arias as well as thrilling orchestral interludes. Three sublime voices and three centuries of sumptuous music promise one glorious highlight after another including Depuis le jour, Porgi amor, Vissi d'arte, the Flower Duet from Lakmé as well as specially arranged trios of O mio babbino caro, Brindisi and Sempre Libera. Booking is now open for all four venues. Full details below. See full programme listing here.
In celebration of the first Three Sopranos Summer Gala tour, each concert will feature a John Murray Show listener, selected through the programme's 'Sing with the Sopranos Search', singing the popular Neapolitan song O Sole Mio on stage with the three sopranos and the RTÉ National Symphony Orchestra. Garage service manager and part-time sheep farmer Padraig Connaughton from Loughrea, Co Galway is one of the four RTÉ Radio 1 listeners selected through the John Murray Show programme. Read more on Padraig.
Celine Byrne soprano
Regina Nathan soprano
Cara O'Sullivan soprano

BOOKING
Wednesday 5 June, 8.00pm
Leisureland GALWAY
Tickets: €25 (concession €22, student €15)
Booking: Town Hall Theatre, www.tht.ie | 091 569777
OTHER TOUR DATES:
Thursday 6 June, 8.00pm
University Concert Hall LIMERICK
Tickets: €35 (concession €32.50) €30 (balcony), €20 (choir balcony)
Booking: University Concert Hall | www.uch.ie | 061 331549
Friday 7 June, 8.00pm
City Hall CORK
Tickets: €35, €30, €25
Booking: The Everyman / www.everymancork.com / 021 4501673
Saturday 8 June, 7.30pm:
WATERFORD, WIT College Hall
Tickets: €25 (Concession €18)
Booking: Garter Lane Arts Centre| www.garterlane.ie | 051 855038 | www.scow.ie

Follow Us:
Next Performances
---
Links of Interest