Events
RTÉ National Symphony Orchestra 2012-2013 Season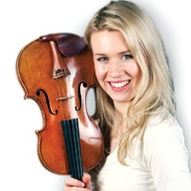 A POSTCARD FROM THE NEW WORLD AND THE OLD
Friday 19 April 2013, 8pm
National Concert Hall
Ends 9.35pm approx

Lalo Symphonie espagnole, Op. 21 [33']
Dvorak Symphony No. 9 in E minor, Op. 95 'From the New World' [40']
Eldbjørg Hemsing violin
Damian Iorio conductor, replacing Gilbert Varga
A POSTCARD FROM THE NEW WORLD AND THE OLD
ABOUT THE PROGRAMME
A musical journey between the Old World of Europe - in Lalo's rhapsodic celebration of Spanish folk songs - and the New World of America in Dvorak's stirring Ninth Symphony, with its unforgettably stirring blend of Native American and African- American melodies and tunes from his native Bohemia. Heard in countless television adverts and films, it remains a work of epic dimensions, with music that is gloriously fresh, vital, and alive to the ear. The acclaimed young Norwegian violinist Eldbjørg Hemsing is our soloist.
Soundings, 7pm: Damian Iorio in conversation

FOLLOWED BY
Late Night concert with Eldbjørg Hemsing, violin/Hardanger fiddle follows at 9.45pm (30 minutes).
Norwegian folk tunes
J. S. Bach Largo and Allegro Assai from Sonata No. 3 in C major
Øistein Sommerfeldt Sonata Saxifraga
Eugene Ysaye Sonata No. 3 'Ballade'

A 30 minute recital featuring traditional folk tunes from Valdres, Eldbjorg Hemsing's home area, followed by, what Hemsing calls 'virtuoso music at its best' with the Bach, Sommerfeldt's Sonata Saxifraga, an atmospheric piece honouring the delicate yet enduring Norwegian mountain plant Saxifraga cotyledon and, to finish, Ysaÿe's piece 'Ballade' dedicated to George Enescu.
Tickets:
8pm concert: €10, €18, €24, €30, €35 (concessions €9, €16, €22, €27, €32)
Late Night concert: €5 (unreserved seating) | Free if attending 8pm concert
Booking (no fees): 01 417 0000
Want to save more? Discounts from 5%-30% when you buy 3 or more RTÉ NSO Main Season concerts. You automatically become an RTÉ NSO Subscriber which gives you further benefits and disocunts. To find out more: Call National Concert Hall Box Office on 01 417 0000

Follow Us:
Next Performances
---
Links of Interest