Events
Dario Marianelli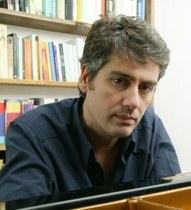 Tuesday 19th February
National Concert Hall
RTÉ Concert Orchestra

Christopher Austin - conductor
Kenneth Edge - saxophone
Anthony Hewitt - piano
Eddie Hession - accordion


Jameson Dublin International Film Festival, the National Concert Hall and the RTÉ Concert Orchestra are delighted to announce a special concert celebrating film composer Dario Marianelli (Pride and Prejudice, Anna Karenina, Atonement), as part of Ireland's EU Presidency celebrations.
Italian composer Dario Marianelli won the Oscar, Golden Globe and Ivor Novello in the Best Original Score category for the award winning film Atonement, for which he was also BAFTA nominated. He was previously Oscar nominated for his score for Pride and Prejudice. Having started his career working on Irish feature films such as Ailsa and I Went Down, Dario has composed the music for a range of acclaimed films such as Jane Eyre, Pride and Prejudice, The Brothers Grimm, V for Vendetta and, most recently, Anna Karenina.
Introduced by Dario Marianelli, The RTÉ Concert Orchestra will perform a programme of his film music specially selected by the composer which will include music from Ailsa and I Went Down as well as debut Irish performances of The Brothers Grimm, Pride and Prejudice, Anna Karenina and Atonement Suites, in the National Concert Hall, Dublin. Tickets are on sale now from the National Concert Hall box office on www.nch.ie or 01 4170000.
Tickets: €15-€35
Booking: www.nch.ie or 01 417 0000 (no booking fee)


RTÉ CO E-Newsletter
Follow Us:
You Tube
Next Performances
---
Links of Interest