Events
RTÉ National Symphony Orchestra 2012-2013 Season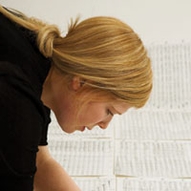 HORIZONS 2013 FREE LUNCHTIME CONCERT
FEATURED COMPOSER: ANN CLEARE
Tuesday 12 February 2013, 1.05pm
National Concert Hall
Ann Cleare phôsphors(...of ether) (2013) [13'] World premiere
Xenakis Metastaseis (B) (1954) [7'] **
Ann Cleare to another of the other for bass clarinet, trumpet, trombone and orchestra [16'] World premiere
**Replacing Dämmerschein (Rays of Twilight) (1994)

Elision Ensemble (Richard Haynes, Benjamin Marks, Tristram Williams)
Gavin Maloney conductor
Watch Ann's video interview on her programme with the RTÉ NSO.
Read what Ann had to say about Metastaseis (B) in her Irish Times interview.

THE COMPOSER ON HER PROGRAMME
'Ideas of intricate architectures, vivid landscapes, floating islands, chemical transformations, unusual languages, and infiltrating lights permeate this programme.
In the first of my pieces, phôsphors (...of ether), the various instrumental colours of the orchestra are divided into four different islands of sound that slowly communicate through the construction of new instrumental colours, creating one huge space of undulating light.
The second piece of the programme, Metastaseis (B), comes from the late Iannis Xenakis. A piece of sensation and surprise, it is an exhilarating listening experience, like a natural force being recreated on the orchestral stage.
The final piece of the programme invites three soloists from the Australian ensemble, ELISION, to perform with the orchestra for the world premiere of to another of that other. The vast colours and textures of the orchestra will outline a narrative of transformation that the trio undertake, creating a multilayered, overlapping sonic texture, which aims to bring the listener into a state of timelessness.'
Ann Cleare

12.30pm: Composers in Conversation
Contemporary Music Centre Director Evonne Ferguson with composer Ann Cleare
Composers in Conversation takes place in association with the Contemporary Music Centre
FIND OUT MORE:
Visit Ann's website
Tickets: FREE TICKETED EVENT
Booking (no fees): 01 417 0000 | www.nch.ie
Follow Us:
Next Performances
---
Links of Interest