Events
RTÉ National Symphony Orchestra 2012-2013 Season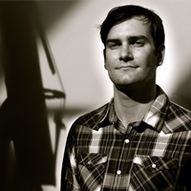 HORIZONS 2013 FREE LUNCHTIME CONCERT
FEATURED COMPOSER: JONATHAN NANGLE
Tuesday 29 January 2013, 1.05pm
National Concert Hall
Donal Sarsfield Between Wood and Water for string orchestra and tape (2008) [10']
Jonathan Nangle Damaging My Calm (2012) [10'] World premiere Jonathan Nangle Then falls thy Shadow for chamber ensemble and random shuffle playback system (2010) [5'] World premiere of a new arrangement
Jonathan Nangle Now is night come quietly (2010) [8'] RTÉ commission. World premiere.
Gavin Maloney conductor

THE COMPOSER ON HIS PROGRAMME
'DAPPLED SUNLIGHT CAST THROUGH SUMMER FOLIAGE and the complex, evolving interplay between light and shadow as the breeze ruffles the treetops, the squeak of an old chair, night rain, white harmony, flowing lines, a shuffling iPod and slow moving chords. A peal of bells derived from the light cast by the afternoon sun and the enveloping blackness as day turns gently into night.'
Jonathan Nangle
WATCH A VIDEO INTERVIEW ABOUT THE CONCERT with Jonathan Grimes and CMC's Jonathan Grimes.
FIND OUT MORE:
Read Jonathan's biog
Visit Jonathan's website
Listen to some of Jonathan's music
12 noon: Sound Installation
Jonathan Nangle Trip the Light Fantastic CMC Commission
(Watch a performance here)

12.30pm: Composers in Conversation
Contemporary Music Centre Director Evonne Ferguson with composer Jonathan Nangle
Composers in Conversation takes place in association with the Contemporary Music Centre
Tickets: FREE TICKETED EVENT
Booking (no fees): 01 417 0000 or ONLINE
Follow Us:
Next Performances
---
Links of Interest