Events
RTÉ National Symphony Orchestra 2012-2013 Season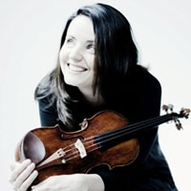 TURKISH DELIGHT AND TARTAN
Friday 23 November 2012, 8pm
National Concert Hall
Ends 9.50pm approx

Schnittke Moz-art à la Haydn [12']
Mozart Violin Concerto No. 5 in A, K219 'Turkish' [31']
Mendelssohn Symphony No. 3 in A minor, Op. 56 'Scottish' [40']
Baiba Skride violin
Michael Francis conductor
TURKISH DELIGHT AND TARTAN
ABOUT THE PROGRAMME
TWO OF TODAY'S MOST SOUGHT-AFTER YOUNG TALENTS - VIOLINIST BAIBA SKRIDE AND CONDUCTOR MICHAEL FRANCIS - TEAM UP as our survey of Mozart's violin concertos continues with the 'Turkish', a magnificently colourful dialogue between soloist and orchestra brimming with wild exoticism.
Schnittke's Moz-Art à la Haydn takes playful delight in reworking a Mozart fragment with a liberal helping of Haydn for added humour.
Mendelssohn's glorious picture postcard of his travels in Scotland, the effusive and evocative Third Symphony, is every bit as rich and romantic as the Scottish Highlands.
Soundings, 7pm: In Conversation
RTÉ NSO Associate Artist Finghin Collins with Baiba Skride on Mozart Concerti cycles
Tickets: €10, €18, €24, €30, €35
(concessions €9, €16, €22, €27, €32)
Booking (no fees): 01 417 0000 or ONLINE
Want to save more? Discounts from 5%-30% when you buy 3 or more RTÉ NSO Main Season concerts. You automatically become an RTÉ NSO Subscriber which gives you further benefits and disocunts. To find out more: Call National Concert Hall Box Office on 01 417 0000

Follow Us:
Next Performances
---
Links of Interest