Events
RTÉ National Symphony Orchestra 2012-2013 Season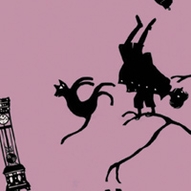 RTÉ National Symphony Orchestra and Wide Open Music present
RAIN FALLING UP: A MODERN ORCHESTRAL, CHORAL AND VISUAL PERFORMANCE FOR CHILDREN

Saturday 10 November, 12 noon
Convention Centre Dublin
Performed with live, big-screen animation, symphony orchestra, a 500-strong children's chorus, a narrator and a chorus of older singers.
'Jake knew things. He knew that the world weighed 6 septillion kilos - that's a six with 24 zeros - but in fact he knew that it weighed nothing at all!'
And so the story begins.
Jake is a little boy who knows things. Jake is a walking encyclopedia and his speciality is gravity.
One day, however, after being blamed for breaking his mum's favourite vase, he comes to the conclusion that gravity isn't his friend anymore. So he builds himself a gravity switch so he can turn gravity off. Life seems so much more fun when you can float but when Jake finds himself drifting alone through the darkest corners of the universe he realises that perhaps he has made a mistake.
Music by Brian Irvine
Words by John McIlduff
Animation by Matthew Robins
Conductor Fergus Sheil
1,000 school children from Carlow, Meath, Offaly, Dublin, Westmeath and Wicklow are involved in Rain Falling Up. The older singers come from South Dublin and Wicklow.
Supported by the Arts Council and local authorities in Carlow, Meath, Offaly, South Dublin, Westmeath and Wicklow.
Free pre-concert foyer performances at 11.30am
World premiere of a new orchestral work composed for the occasion by Brian Irvine. Performed by the Julianstown Youth Orchestra and conducted by the composer.

Tickets: €15 (full price) | €10 (children)
Booking (no fees): 01 417 0000
Follow Us:
Next Performances
---
Links of Interest