Events
RTÉ CO: Gilbert & Sullivan's The Gondoliers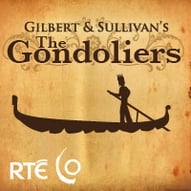 Thursday 10 January, 8pm
National Concert Hall
RTÉ Concert Orchestra
New Dublin Voices

Duke of Plaza-Toro Richard Suart
Marco Palmieri Mark Wilde
Giuseppe Palmieri Richard Burkhard
The Duchess of Plaza-Toro Frances Bourne
Casilda Nicola Mulligan
Luiz Eamonn Mulhall
Don Alhambra del Bolero Steven Page
Gianetta Daire Halpin
Tessa Raphaela Mangan

Following a stunning performance of The Pirates of Penzance in August, the RTÉ Concert Orchestra return with a top-notch production of Gilbert & Sullivan's last great success, The Gondoliers.
The tale concerns the confusion of the heir to the throne of Barataria for the son of a drunken gondolier. In lieu of a leaderless kingdom, it is decided that both the young prince and the gondolier's son jointly rule until such time as the prince's nurse arrives to distinguish the boys.
This is only the beginning of the twists and turns of this Gilbert & Sullivan favourite. Featuring songs like Take a Pair of Sparkling Eyes, Dance a Cachucha and I Stole the Prince.
Tickets: €11-€38 (conc. €10-€35)
Booking: www.nch.ie or 01 417 0000 (no booking fee)



RTÉ CO E-Newsletter
Follow Us:
You Tube
Next Performances
---
Links of Interest