Events
RTÉ National Symphony Orchestra 2011-2012 Season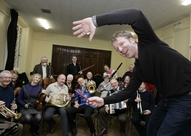 Friday 3 February, 7pm
at the National Concert Hall
FREE event | Tickets available at NCH box office
FORTE! Showcase: Inspired by Shostakovich!
Compositional project based on Shostakovich's Symphony No. 7, 'Leningrad' with member of the NCH's Blow the Dust Orchestra, led by Paul Rissmann, RTE National Symphony Orchestra Creative Advisor
CLICK TO LISTEN BACK TO RTE RADIO 1, MORNING IRELAND REPORT
The RTÉ National Symphony Orchestra is in compositional mode. Inspired by Shostakovich, the orchestra's latest musical discovery and compositional project is getting underway with 45 members of the Blow the Dust Off Your Trumpet Orchestra for older musicians of the National Concert Hall.
Inspired by Shostakovich takes place as part of FORTE!, the RTÉ NSO's Musical Discovery Programme for audiences of all ages.
Led by the RTÉ NSO's Creative Advisor, Paul Rissmann, an award-winning music educationalist, animateur, presenter and composer described as 'the Jamie Oliver of music animateurs', and a small group of RTÉ NSO musicians, the Blow the Dust orchestra members will, over the course of four days, create a new work inspired by Shostakovich's 'Leningrad' symphony (Symphony No. 7), one of the works being performed as part of the RTÉ NSO's season concert on Friday 3 February. The new work will include all of the instruments available within the participating group: they include banjo, mandolin, alto saxophone and accordion as well as voice and the usual orchestral instruments. Inspired by Shostakovich will culminate with a public performance of the new work on the main stage in the National Concert Hall at 7pm on Friday 3 February in advance of the RTE NSO's 8pm season concert.
Speaking about the compositional project in advance Paul Rissmann said: Inspired by Shostakovich aims to take the RTE NSO's repertoire off the concert platform and to use it to inspire creative music-making with all members of society. Shostakovich's music is endlessly fascinating, both musically and historically, and we will examine both of these concepts in our workshops. The participants will not only have the challenge of learning actual material from the score of the 'Leningrad' Symphony but also of reshaping it to an entirely new form. We are essentially re-mixing one of the great masterworks of the orchestra's repertoire. Ultimately we have no idea where will end up - but we have one of the most incredible places to start!'
Tickets: This event is free as part of the main season 8pm concert. Tickets available from the NCH box office on the evening of the concert.


Follow Us:
Next Performances
---
Links of Interest