Events
RTÉ National Symphony Orchestra 2011-2012 Season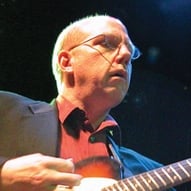 WIRED
Friday 20 January, 8pm
at the National Concert Hall
JOHN ADAMS Slonimsky's Earbox [14']
RONAN GUILFOYLE Hands
Concerto for Electric Guitar and Orchestra [c. 20']
(RTÉ commission: world première)
SHOSTAKOVICH Suite for Jazz Orchestra No. 2 [24']
SHOSTAKOVICH Symphony No. 9 in E flat, Op. 70 [27']
Rick Peckham electric guitar
Scott Stroman conductor
Slonimsky's Earbox (named for the erudite author on music and music theory) begins in a frenzy with a nod to Stravinsky and never lets up. It has that particular quality in Adams - wit forged in wonder. There are many sides to Shostakovich and the music tonight parades some of that diversity: the slightly melancholic though highly enjoyable jazz Suite; and the more acidic, sardonic world of the Ninth Symphony. Is this Shostakovich at his most uninhibited or most subversive?
As for Hands, Ronan's new concerto for electric guitar and orchestra, Ronan says..
'After Jimi Hendrix, the electric guitar became an instrument with incredible sonic range and power. In Hands, I've harnessed the power and colouristic possibilities of this amazing instrument and allied it to the power and colouristic possibilities of the modern symphony orchestra. The electric guitar is the most popular instrument in the world today, yet it is not represented in the "classical" world. Now I want to show it off in an orchestral context, and the rhythmic and improvisational skills of the great guitarist. Rick Peckham.'
Hands, is in three movements, is very rhythmic and uses improvisation in the first movement which finishes with an improvised cadenza - a kind of throwback to the early 19th century practice of concerto soloists, though this time through the very contemporary medium of the electric guitar' Ronan Guilfoyle

Video diaries: Ronan kept a video diary as he composed his new work. For his latest instalment, 'Meeting the orchestra' he interviewed members of the RTE NSO about playing new music for the first time. See also his other two instalments. 'Beginning' and 'Annaghmakerrig'.
Ronan's new work will be given a preview performance on Tuesday 17 January as part of the RTÉ NSO's 2012 Horizons series.
SOUNDINGS 7pm | IN CONVERSATION
Composer and jazz bassist Ronan Guilfoyle in conversation with electric guitarist Rick Peckham
Tickets: €10, €18, €24, €30, €35 (conc. €9, €16, €22, €27, €32)
Booking: 01 417 0000 oronline
Follow Us:
Next Performances
---
Links of Interest