Events
RTÉ National Symphony Orchestra 2011-2011 Season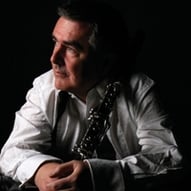 September Lunchtime concert: The Sinners!
Tuesday 27 September, 1.05pm
at the National Concert Hall
Linked event: September Lunchtime concert: The Saints!
The Sinners!
LISZT Mephisto Waltz No. 1 [10']
PUCCINI In quelle trine morbide from Manon Lescaut [3'] MASSENET Obéissons, quand leur voix appelle from Manon [6'] GLUCK Dance of the Furies from Orfeo ed Euridice [4']
PUCCINI Intermezzo from Manon Lescaut [4']
PUCCINI Sola, Perduta from Manon Lescaut [6']
MASSENET Dis moi que je suis belle from Thaïs [6']
GOUNOD Ballet music from Faust (excerpts) [8']
Gabriela Istoc soprano
John Finucane conductor
Liz Nolan RTÉ lyric fm, presenter
Concert broadcast live on RTÉ lyric fm with Liz Nolan's Lunchtime Classics live in the NCH foyer from noon.
Saint & Sinner!
The interplay between good and bad, between sacred and profane between demonic and holy is essential to a good operatic story. Here we offer you roles such as the wayward Faust and the demon Mephistopheles destroying the innocent Marguerite; the unfortunate Manon who elopes whilst on her way to a convent; a nun about to kill herself; the courtesan, Thaïs, ruler of Alexandria, who is converted to Christianity; Liszt's vivid portrait of Faust dancing with a beautiful young girl at a wedding in a tavern whilst Mephistopheles plays the violin; Gluck's pictures of both the Blessed Spirits and the Furies; the struggle between Pagan and Christian worship in Tannhäuser. It all adds up a wonderful pair of lunchtime concerts that we call Saints and Sinners!

Tickets: €10. Reserved seating available
Grab&go Lunch: €5. Group Discount available
Booking: 01 417 0000 or online
Follow Us:
Next Performances
---
Links of Interest