Events
RTÉ National Symphony Orchestra 2011-2012 Season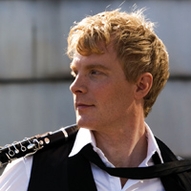 FRÄULEIN KLARINETTE
Friday 23 September, 8pm
at the National Concert Hall

with Early Evening concert 7pm:
A pre-concert performance by RTÉ Cór na nÓg in the John Field Room

with Late Night concert at 10.15pm:
RTÉ Vanbrugh Quartet perform Mozart, Arvo Part, Donnacha Dennehy

STRAVINSKY Symphony in C [28']
COPLAND Clarinet Concerto [18']
ANDERS HILLBORG Clarinet Concerto: Peacock Tales (millennium version) [12']
BEETHOVEN Symphony No. 5 in C minor, Op. 67 [31']
Martin Fröst clarinet
Hannu Lintu conductor

Watch Hannu's video interview in which he discusses this programme with Irish Times Music Critic Michael Dervan.


And what about Martin Fröst who says 'I'm scared sometimes - it doesn't have to be comfortable' in his Irish Times interview on Wednesday 21 September. Read the full interview.
Beethoven's opening bars in Symphony No. 5 must be the most famous in all music. What an astonishing journey and blazing musical triumph over adversity. Mime is as much a part of clarinettist Martin Fröst's performance as his music-making. He explores a world of extreme dualities tonight - small-town to big-city Copland; chameleon-like music concealing and revealing in Hillborg's wry workout. Yes, workout: masked and twisting himself in knots - Fröst makes for great listening and enthralling viewing. Read what Hannu says
Culture Night: All the free tickets for the 8pm & 10.15pm concert have been allocated.
Tickets:
Early Evening 7pm:
Free as part of that evening's 8pm concert*

8pm Main Season Concert:
€10, €18, €24, €30, €35 (concessions €9, €16, €22, €27, €32)

Late Night concerts 10.15pm:
Free to people attending the 8pm concert* | €5

*Please Note: separate ticket required for entry to Early Evening and Late Night concerts

Booking: 01 417 0000 | www.rte.ie/nationalsymphonyorchestra
Follow Us:
Next Performances
---
Links of Interest