Events
RTÉ National Symphony Orchestra 2010-2011 Season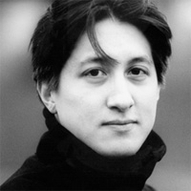 FULL CIRCLE
Friday 27 May, 8pm
at the National Concert Hall
Rimsky-Korsakov May Night Overture [8']
Rachmaninov Rhapsody on a Theme of Paganini, Op. 43 [22']
Linda Buckley chiyo [10']
Rachmaninov Symphonic Dances, Op. 45 [35']
Freddy Kempf piano
Alan Buribayev conductor
Find out more about the artists
Want to know more about Alan? Watch him online.

Wonder what it's like creating a new work? Linda Buckley shares her thoughts with the Contemporary Music Centre. View.

Read Linda's interview in the JMI.
About the programme
Our Principal Conductor Alan Buribayev brings the season to a close, coming full-circle with Rachmaninov and Rimsky-Korsakov and the world première another Irish work, this time, chiyo by Linda Buckley, commissioned by RTÉ for the National Symphony Orchestra.
Speaking about chiyo, Linda Buckley says: chiyo is inspired by the haiku poetry of chiyo-ni (Japan, 18th century). Chiyo-ni is widely regarded as one the greatest female haiku poets. Her work is characterised by a simple, understated beauty, and is often concerned with the human connection to nature, the sense of oneness with nature. Read Linda's full programme note on chiyo.
Symphonic Dances is a terrific, no-holds-barred tour de force that leaps into life. Infernal virtuosity is also the name of the game in Rachmaninov's Paganini rhapsody played by Freddy Kempf. A blazing end to the season!

Soundings 7pm | In Conversation
Alan Buribayev, Principal Conductor, with Frank McNally, Irish Times.
Alan looks back at his first season as Principal Conductor and ahead to 2011-2012.

Tickets: €10, €18, €24, €30, €35 (conc. €9, €16, €22, €27, €32)
Booking: 01 417 0000 or online
Follow Us:
Next Performances
---
Links of Interest