Events
Oileán and Other Worlds Mícheál Ó Súilleabháin with the RTÉ Concert Orchestra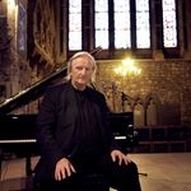 Wednesday 11 May, 8pm
National Concert Hall
As part of the RTÉ Heart|Land season - see www.rte.ie/heartland
RTÉ Concert Orchestra
Mícheál Ó Súilleabháin piano/director
Matt Molloy flute
Kenneth Edge saxophone
Mary Dullea piano
Proinnsías Ó Duinn conductor
One of Ireland's best-known composers and performers joins the RTÉ Concert Orchestra and a top line-up for an evening of his vibrant, evocative music. The sounds of traditional and classical are explored in the Irish Destiny Suite, music from the new album Elver Gleams and more. Featuring the first concert performance of Ó Súilleabháin's seminal work Oileán/Island in a new arrangement for flute and full orchestra, featuring the great Matt Molloy of The Chieftains.
In radio and television documentaries alongside music and poetry, both broadcast and live, the Heart|Land season celebrates the land and landscape of Ireland as it delves into rural life in the 21st century.
Watch Mícheál Ó Súilleabháin and the RTÉ CO in action here for a flavour.
Programme

Elver Gleams: Three Sessions for Piano and String Orchestra
Session 1
Ave Maris Stella
Between Worlds
Session 2
Woodbrook
So Merrily Dance
Session 3
Eleanor Plunkett
The Fox Chase
Templum
Bean Dubh an Ghleanna/Dark Woman of the Glen
(must be more) Crispy
Gellan
Gellan is based on a piano trio, Fidelio Unsung, commissioned by RTÉ lyric fm. This is the first performance of Gellan for solo piano and full orchestra.
Oileán/Island
The full orchestration of Oileán was commissioned by RTÉ lyric fm in 2007.
Irish Destiny Suite
Irish Destiny Overture
Anthem
Story
Flowan
Tickets: €11-€38 (€10-€35)
Booking : 01 417 0000 or ONLINE
RTÉ CO E-Newsletter
Follow Us:
You Tube
Next Performances
---
Links of Interest