Events
RTÉ National Symphony Orchestra 2010-2011 Season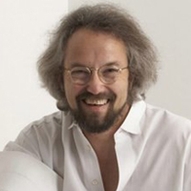 EAST MEETS WEST
Friday 11 February, 8pm
at the National Concert Hall
Ives The Unanswered Question [6']
Bartók Music for Strings, Percussion and Celesta [27']
Dvorák Symphony No. 9 in E minor, Op. 95 'From the New World' [40']
Carlos Kalmar conductor
Challenges and thrills with an American theme. Ives' Unanswered Question calls for a solo trumpet in the balcony, strings on-stage and winds off-stage, while one of Bartók's best-known works requires two string orchestras separately placed.
Dvorák, like Bartók, moved to the USA but continued to draw inspiration from his European heritage. The Czech composer's 'New World' Symphony completes the circle.

Soundings 7pm | In Conversation
Carlos Kalmar, conductor, with David McKenna, television producer/director, RTÉ.
The evening's staging of multiple groups.


Tickets: €10, €18, €24, €30, €35 (conc. €9, €16, €22, €27, €32)
Booking: 01 417 0000 or online
Follow Us:
Next Performances
---
Links of Interest