Events
RTÉ National Symphony Orchestra 2010-2011 Season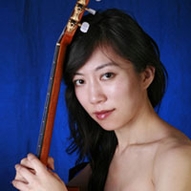 IN THE GARDENS OF SPAIN
Friday 7 January, 8pm
at the National Concert Hall
Rimsky-Korsakov Capriccio Espagnol [15']
Rodrigo Concierto de Aranjuez [21']
Stephen Goss The Albéniz Concerto: Third-Movement Cadenza and Fourth Movement (Aragón) (Irish première) [9']
Falla The Three-Cornered Hat [30']
Xuefei Yang guitar
Fiona Murphy mezzo-soprano
Alan Buribayev conductor
Want to know more about Alan? Watch him online.
Want to know more about The Albéniz Concerto? Read more.
Spain with a twist! Extraordinary orchestral colour from the Capriccio Espagnol to the famous Rodrigo Concierto de Aranjuez, plus a newly-written Albéniz Concerto performed in Dublin for the first time by Xuefei Yang. An opportunity to hear the full score of Falla's ballet, The Three-Cornered Hat, complete with mezzo Fiona Murphy, will deliver an evening strong on passion and the unique sensuality of Andalusia.
Soundings 7pm | In Conversation
Xuefei Yang, guitarist, with Gavin Maloney, conductor.
Discussion and demonstration: The evening's guitar repertoire.

Tickets: €10, €18, €24, €30, €35 (conc. €9, €16, €22, €27, €32)
Package Booking: 01 417 0000 or online
Note: Online package booking offers you the best available seats. If you want to pick particular seats, you can do so by contacting the NCH box office directly on 01 4170000.Single concert booking opens Saturday 12 June

Follow Us:
Next Performances
---
Links of Interest