Events
RTÉ National Symphony Orchestra 2010-2011 Season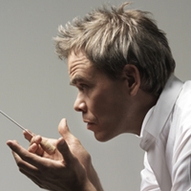 BY THE WATERS OF BABYLON
Friday 26 November, 8pm
at the National Concert Hall
Sibelius The Captive Queen, Op. 48 [15'] (Sung in Finnish)
Walton Belshazzar's Feast [36']
Nielsen Symphony No. 4, Op. 29 'The Inextinguishable' [36']
Ashley Holland baritone
RTÉ Philharmonic Choir (chorus master Mark Duley)
Hannu Lintu conductor
Intellectually and musically riveting, Principal Guest Conductor Hannu Lintu's programmes will be another highlight of the 2010-2011 season. Read Hannu's own thoughts on these concerts and Michael Dervan's interview with Hannu in The Irish Times, Thursday 25 November.
The programme
Walton's Belshazzar's Feast is an eclectic work for the RTÉ Philharmonic Choir to embrace, while Walton's debt to the influence of Sibelius establishes a connection with the opening work, the rarely performed Captive Queen. The first of three Lintu concerts, this evening also highlights the Nielsen presence in the season - beginning with 'The Inextinguishable'!

Soundings 7pm | Guest Talk
Brian O'Rourke, former General Manager and Principal Clarinettist, RTÉ NSO.
Belshazzar's Feast.

Tickets: €18, €24, €30, €35 (conc. €16, €22, €27, €32)
Package Booking: 01 417 0000 or online
Next up with Hannu
Visions of the Future: 15 April 2011
Cries and Whispers: 13 May 2011
Note: Online package booking offers you the best available seats. If you want to pick particular seats, you can do so by contacting the NCH box office directly on 01 4170000.Single concert booking opens Saturday 12 June

Follow Us:
Next Performances
---
Links of Interest