Events
RTÉ National Symphony Orchestra 2010-2011 Season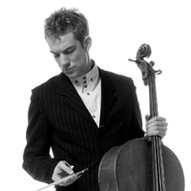 THE VIRTUOSO ORCHESTRA
Friday 12 November, 8pm
at the National Concert Hall
Respighi Fountains of Rome [15']
Tchaikovsky Variations on a Rococo Theme, Op. 33 [18']
Bartók Concerto for Orchestra [36']
Johannes Moser cello
Alan Buribayev conductor
Want to know more about Alan? Watch him online.
RTÉ NSO 2010 Mentoring Scheme for Advanced Young Musicians
Nine of Ireland's leading young instrumental students, ranging in age from 20 to 23 and from counties Dublin, Cork, Kilkenny and Donegal, will join the RTÉ NSO in performance as part the RTÉ NSO's newly developed Mentoring Scheme for Advanced Young Musicians. Read more on this.


The programme
Disarmingly simple, and yet with creative room for the virtuosity of Johannes Moser, who so impressed in his performance in 2009, Tchaikovsky's Variations on a Rococo Theme is a wonderfully melodic work.
Beginning the Italianate theme, Respighi's shimmering early-morning landscapes and sensuous Mediterranean sunsets frame bursts of orchestral brilliance.
Bartók's Concerto for Orchestra remains one of the towering achievements of twentieth-century repertoire, immensely important for creating a world of instrumental possibilities.

Soundings 7pm | Guest Talk
David Fennessy, composer.
The impact of Bartók's orchestral masterwork.

Tickets: €10, €18, €24, €30, €35 (conc. €9, €16, €22, €27, €32)
Package Booking: 01 417 0000 or online
Note: Online package booking offers you the best available seats. If you want to pick particular seats, you can do so by contacting the NCH box office directly on 01 4170000.Single concert booking opens Saturday 12 June

Follow Us:
Next Performances
---
Links of Interest