Events
RTÉ National Symphony Orchestra 2010-2011 Season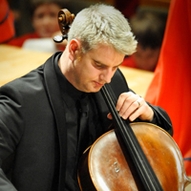 TILTING AT WINDMILLS
Friday 29 October, 8pm
at the National Concert Hall

Ravel Le Tombeau de Couperin [17']
Debussy Nocturnes [25']
R. Strauss Don Quichotte, Op. 35 [38']
Martin Johnson cello
Adele Johnson solo viola
Ladies of the RTÉ Philharmonic Choir (chorus master Mark Duley)
Pascal Rophé conductor
This 2010-2011 season marks the beginning of a journey to explore French orchestral repertoire with Pascal Rophé over three years, starting with works by Ravel and Debussy, cornerstones of the French repertory.
A haunting, beautiful movement in Nocturnes includes ladies of the RTÉ Philharmonic Choir in a wordless chorus, while Richard Strauss' Don Quichotte, featuring just the solo cello in imaginative variations, portrays the chivalrous knight riding out on his madcap adventures.
Soundings 7pm | In Conversation
Kathryn McDowell, Managing Director, London Symphony Orchestra, with Séamus Crimmins, Executive Director, RTÉ Orchestras.
Orchestral development.
Tickets: €10, €18, €24, €30, €35 (conc. €9, €16, €22, €27, €32)
Package Booking: 01 417 0000 or online
Note: Online package booking offers you the best available seats. If you want to pick particular seats, you can do so by contacting the NCH box office directly on 01 4170000.Single concert booking opens Saturday 12 June

Follow Us:
Next Performances
---
Links of Interest