Events
RTÉ National Symphony Orchestra 2010-2011 Season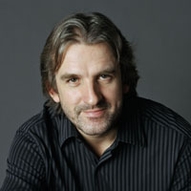 MOVING PICTURES
Friday 24 September, 8pm
at the National Concert Hall
with Early Evening Piano Recital at 7pm
Linked to FORTE! Incredible Adventures: A Family Concert for Young People
Celebrating Culture Night 2010
Brahms Piano Concerto No. 1 in D minor, Op. 15 [44']
Mussorgsky (orch. Ravel) Pictures at an Exhibition [35']

Barry Douglas piano/conductor
Before you read on and before you come to the concert, watch Barry on directing Brahms 1 from the keyboard.
An evening of romantic works written for piano, performed and conducted by one of the great exponents of the Romantic piano repertoire. Hear Brahms' daring first piano concerto directed from the keyboard by Barry Douglas, followed by the pianist/conductor's renowned interpretation of Pictures at an Exhibition.
An early evening concert with Sophie Cashell lets you experience Mussorgsky's original version for piano solo.
Post Concert 10pm |In Conversation
Barry Douglas, pianist/conductor, with Christine Lee, RTÉ NSO General Manager.
Discussion of the evening's concert.


Tickets: €10, €18, €24, €30, €35 (conc. €9, €16, €22, €27, €32)
Package Booking: 01 417 0000 or online
Next from Barry in The Soloist Directs Series
...Thus with a kiss I die on 8 April 2011.
Brahms Piano Concerto No. 2 and Prokofiev Romeo and Juliet excerpts. Find out more.
Note: Online package booking offers you the best available seats. If you want to pick particular seats, you can do so by contacting the NCH box office directly on 01 4170000.Single concert booking opens Saturday 12 June

Buying options: Single concerts or packages?
How and when to book
Prices & Packages
Download the 2010-2011 Season brochure
Culture Night
RTÉ will make 100 free tickets available for this RTÉ NSO concert . Ticket applications can be made online at www.rte.ie/culturenight following the launch of Culture Night on 18 August.
Tickets for the Early Evening piano recital with Sophie Cashell and the post-concert talk with pianist Barry Douglas will be free to all. Advance booking necessary via the NCH Box Office.

Follow Us:
Next Performances
---
Links of Interest