Events
RTÉ National Symphony Orchestra 2009-2010 Season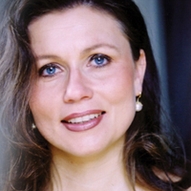 VIENNESE STYLES
Friday 21 May, 8pm
Schubert Symphony No. 8 'Unfinished'
Berg Seven Early Songs
Mozart Piano Concerto No. 8
Schoenberg Verklärte Nacht
Claudia Barainsky soprano
Rebecca Cápová piano
Andrew Grams conductor
Marvellous music all round. The Schubert all power and drive; the rarely heard Mozart, K. 246, written for a Salzburg Countess, full of spirit. The Berg songs, other-worldly and beautiful, and Schoenberg at his most ardent and romantic. A concert where the refinement and economy of Schubert and Mozart is countered by an enthralling questing late romanticism.
Soundings: Composer Raymond Deane, 7pm
NATIONAL CONCERT HALL

Tickets: €10, €18, €24, €30, €35 (conc. €9, €16, €22, €27, €32)
Booking: 01 417 0000 or online.

WHEN TO BOOK
Subscription Packages
Booking opens: Tuesday 9 June, 10am
Single Concerts
Booking opens: Tuesday 7 July, 10am

Find out when Rebecca Cápová is performing next. Check Claudia Barainsky's touring schedule and read her reviews.
DOWNLOAD tonight's programme.
Follow Us:
Next Performances
---
Links of Interest