Events
RTÉ National Symphony Orchestra 2009-2010 Season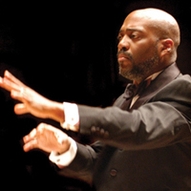 THE STATE OF THE UNION
Friday 30 April, 8pm
André Previn Owls (European première)
Barber Piano Concerto
Hindemith When Lilacs Last in the Dooryard Bloom'd
Philip Martin piano
Fiona Murphy soprano
Owen Gilhooly baritone
RTÉ Philharmonic Choir (Mark Duley chorus master)
William Eddins conductor
A new André Previn piece opens a wonderful all-American related programme under dynamic conductor William Eddins. The elegiac imagery of Walt Whitman's poem - lilacs piled on President Lincoln's coffin as it was taken across the country after his assassination - inspired Hindemith's visionary and intensely moving setting. Barber's lyrical and explosive concerto is just the vehicle for celebrated composer/pianist Philip Martin.
Soundings: In conversation
William Eddins with TCD music lecturer Martin Adams, 7pm
NATIONAL CONCERT HALL

Tickets: €10, €18, €24, €30, €35 (conc. €9, €16, €22, €27, €32)
Booking: 01 417 0000 or online.

WHEN TO BOOK
Subscription Packages
Booking opens: Tuesday 9 June, 10am
Single Concerts
Booking opens: Tuesday 7 July, 10am

Watch William Eddins' video diaries and download his recordings. Listen to Owen Gilhooly and find out when he is performing next.

Follow Us:
Next Performances
---
Links of Interest