Events
RTÉ National Symphony Orchestra 2009-2010 Season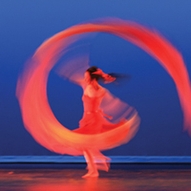 FIREWORKS
Friday 25 September, 8pm
CULTURE NIGHT 2009
Rimsky-Korsakov Capriccio Espagnol
Prokofiev Violin Concerto No. 1
Donnacha Dennehy Crane (world première - RTÉ commission)
Tchaikovsky Swan Lake Suite

Elaine Clark violin
Gavin Maloney conductor
Colour, orchestral virtuosity and balletic elegance from Russia and the eagerly awaited Crane from Donnacha Dennehy. And with soloist Elaine Clark in Prokofiev's 1st Violin Concerto, fireworks are on the menu.
Want to know more about Crane? Watch an interview with composer Donnacha Dennehy.
Soundings: In conversation
Donnacha Dennehy with television producer/director David McKenna, 7pm
NATIONAL CONCERT HALL
Meet the players; meet each other

The RTÉ NSO players would like to meet the audience and we would like to offer you the opportunity to meet them and each other.
Come to The Carolan Room (beside the upstairs bar) during the interval at concerts on Fridays 11, 18 and 25 September when the following players will come straight from the stage to meet you.

Adrian Wilson - Section Leader, Oboe
Jason Sinclair - Section Leader, Trombone
Andreja Malir - Section Leader, Harp
Mark Jenkins - Associate Principal, Double Bass
Discounts available on wine and soft drinks. It's an open house!
Take a chance

Enjoyed this concert but unsure where to go next? Our Take a Chance recommendation will point you in the right direction. You may also like 27 November or 9 April.
Tickets: €10, €18, €24, €30, €35 (conc. €9, €16, €22, €27, €32)
Booking: 01 417 0000 or online

CULTURE NIGHT
The closing date for applying for free tickets was Tuesday 15 September. Successful applicants have been contacted directly by RTÉ by email.

Other RTÉ events for Culture Night: See Culture Night overview

Follow Us:
Next Performances
---
Links of Interest