Events
RTÉ NSO 2008-2009 Season
In association with Anglo Irish Bank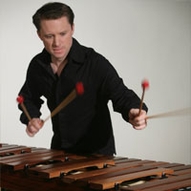 RTÉ National Symphony Orchestra
Colin Currie percussion
James MacMillan conductor

Fergus Johnston Scenes and Interludes from The Earl of Kildare (world première - RTÉ commission)
Jennifer Higdon Percussion Concerto (Irish première)
James MacMillan The Sacrifice: Three Interludes
Giya Kancheli Symphony No. 5
NEW SOUNDS, SOUNDS NEW
James MacMillan conducts an exciting concert of new music. The haunting inner landscapes of Kancheli, music from MacMillan's own opera The Sacrifice, a new Fergus Johnston piece and Higdon's Percussion Concerto, written for the remarkable Colin Currie.

'Ms Higdon aims to please in her colorful, propulsive and unabashedly accessible 25-minute concerto. The performance elicited a cheering ovation for the extraordinary percussion soloist, Colin Currie, and for the composer.'
The New York Times
Colin Currie will also lead master classes with percussion students in the Kevin Barry room at the National Concert Hall on Thursday 26 February at 5pm. This event will be open to the public and tickets (€5) can be purchased at the door. RTÉ is also making a special concert ticket offer available to all students interested in attending the RTÉ National Symphony Orchestra concert on Fri 27 February. For €5, students can attend the final rehearsal, a pre-performance discussion between James MacMillan and Colin Currie and the full evening concert.
FRIDAY 27 FEBRUARY, 8PM
Soundings: James MacMillan in conversation with Colin Currie, 6.45pm
NATIONAL CONCERT HALL
Read Colin Currie's blog, check his touring schedule and read his press reviews.
Tickets: €10, €18, €24, €30, €35 (concessions €9, €16, €21.50, €27, €31.50)

Booking:
01 417 0000 www.nch.ie
Package bookings available now at the National Concert Hall, 01 417 0000. Discounts of up to 30% available.
Broadcast live on RTÉ lyric fm

Download the RTÉ NSO 2008-2009 Season brochure here

Download the RTÉ NSO 2008-2009 Season press release here
Follow Us:
Next Performances
---
Links of Interest