Events
RTÉ NSO 2008-2009 Season
In association with Anglo Irish Bank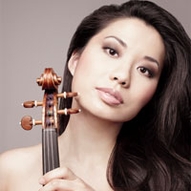 RTÉ National Symphony Orchestra
Sarah Chang violin
Giordano Bellincampi conductor

Per Nørgård Pastorale
Brahms Violin Concerto in D major
Mendelssohn Symphony No. 3 in A minor 'Scottish'
VIRTUOSO

Sarah Chang auditioned for the Juilliard aged five, played Paganini with the New York Philharmonic three years later, and by nine was one of the youngest violinists ever recorded. Now one of the most sought-after artists of her generation, this dynamic performer makes her RTÉ NSO début with the mighty Brahms Concerto.

And, celebrating the Mendelssohn bicentenary, his dramatic and energetic 'Scottish' Symphony. Nørgård's Pastorale, familiar from the film Babette's Feast, opens the concert.
FRIDAY 30 JANUARY, 8PM
Soundings: Helen Meany, 6.45pm
NATIONAL CONCERT HALL
Read about Sarah Chang's extraordinary rise to fame, watch her recent video and check her schedule for upcoming concerts.
RETURNS ONLY
Tickets: €10, €18, €24, €30, €35 (concessions €9, €16, €21.50, €27, €31.50)

Booking:
01 417 0000 www.nch.ie
Package bookings available now at the National Concert Hall, 01 417 0000. Discounts of up to 30% available.

Broadcast live on RTÉ lyric fm

Download the RTÉ NSO 2008-2009 Season brochure here

Download the RTÉ NSO 2008-2009 Season press release here
Follow Us:
Next Performances
---
Links of Interest