Events
RTÉ NSO 2008-2009 Season
In association with Anglo Irish Bank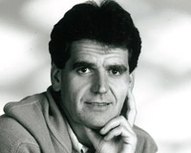 RTÉ National Symphony Orchestra
Philippe Boucly flute
Gerhard Markson conductor


Schubert Overture Rosamunde
Reinecke Flute Concerto in D major
Brahms Symphony No. 1 in C minor
ROMANTIC VOICES

'You have no idea what it's like to hear the footsteps of a giant like that behind you' - Brahms
The footsteps of Beethoven resonated through Brahms' psyche, making him question if he could ever do anything on a par with the earlier master's symphonies. From its earth-shaking opening to the transfigured vision of the finale, Brahms' mighty 1st Symphony is a voyage of discovery from darkness to light.
With this, the Rosamunde overture, full of charm and lovely tunes, and Carl Reinecke's virtuosic flute concerto played by one of Germany's leading flautists.

FRIDAY 12 SEPTEMBER, 8pm
Soundings: Seán Rocks, 6.45pm
NATIONAL CONCERT HALL

Tickets: €10, €18, €24, €30, €35 (concessions €9, €16, €21.50, €27, €31.50)
Booking:
01 417 0000 www.nch.ie
Package bookings available now at the National Concert Hall, 01 417 0000. Discounts of up to 30% available.

Broadcast live on RTÉ lyric fm

Download the RTÉ NSO 2008-2009 Season brochure here

Follow Us:
Next Performances
---
Links of Interest