Meet the RTÉ NSO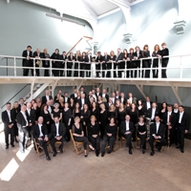 Principal Conductor: Alan Buribayev

From its foundation in 1948 as the Radio Éireann Symphony Orchestra, and first concert under the celebrated French conductor Jean Martinon, the RTÉ National Symphony Orchestra has been at the forefront of symphonic music in Ireland providing an unbroken stream of concerts over a sixty-year period.
Apart from Martinon, who was at the helm in the beginning, other world-class conductors associated with the orchestra's early days have been Hans Schmidt-Isserstedt, Edmond Appia and Milan Horvat, the outstanding guest-conductor being Sir John Barbirolli. The first half of the 1960s saw Tibor Paul as Principal Conductor; his tenure is memorable for the force of his personality, his Beethoven cycles, his work to provide a wider public image for the orchestra, the visit of Igor Stravinsky and the orchestra's first concerts in England in 1966.
Since that time, inevitably with many changes of personnel and indeed title, the orchestra under a succession of Principal Conductors has firmly established itself as a primary force in Irish musical life. The list of guest artists is long and distinguished and features such legendary names as Josef Szigeti, Isaac Stern, Wilhelm Kempff, Julius Katchen, Vladimir Ashkenazy, Martha Argerich, Radu Lupu, Joan Sutherland, Mstislav Rostropovitch, Paul Tortelier, Constantin Silvestri, Charles Dutoit, Witold Lutoslawski, Olivier Messiaen, Karlheinz Stockhausen and Steve Reich.
RTÉ National Symphony Orchestra plays a central role in classical music in Ireland though regular live performance and broadcasts alongside regional touring and residential projects; as an integral part of the Irish state broadcaster (RTÉ) the orchestra reaches a high level of listeners through its weekly live performances with the classical radio station RTÉ lyric fm and from this association onto the international radio stations of the EBU.
Today, the RTÉ National Symphony Orchestra plays a central role in classical music in Ireland through year-long programmes of live performances, schools and educational projects, broadcasts on RTÉ lyric fm and internationally through the European Broadcasting Union, recordings and new commissions. Recent world premieres of works by Irish composers have included music by Elaine Agnew, Bill Whelan, Gráinne Mulvey, David Coonan, Linda Buckley, Irene Buckley and Jerome de Bromhead.
The orchestra has been critically acclaimed for its recordings across a variety of labels including Naxos, Claves and the RTÉ lyric fm label. Recent Naxos releases include two critically acclaimed recordings of works by Bizet and Dukas with conductor Jean-Luc Tingaud. Recordings on the RTÉ lyric fm label include the Composers of Ireland series, funded by RTÉ and The Arts Council, which to date has recorded works by Gerald Barry, Raymond Deane, Seóirse Bodley, Deirdre Gribbin, Ian Wilson, John Kinsella, Stephen Gardner, Kevin O'Connell, Donnacha Dennehy and Kevin Volans, recordings of selected orchestral works by Aloys Fleischmann, Frederick May and Seán Ó Riada, Finghin Collins: Mozart Piano Concertos and Celine Byrne: For Eternity.
The 2015-2016 Season at the National Concert Hall includes Mahler: The Wunderhorn Years - four symphonies and two orchestral song cycles inspired by the romantic poetry of Des Knaben Wunderhorn; Mahler in Vienna - three related late evening concerts featuring chamber music by Schoenberg, Zemlinsky and Webern, composers who fell under Mahler's spell during the time he lived and worked in turn of the century Vienna; Shostakovich: The Wartime Symphonies, three gripping symphonies created during and in the immediate aftermath of World War II; major string concertos from the twentieth century; the world premiere of The Alma Fragments by Raymond Deane; the Irish premiere of Gerald Barry's Piano Concerto; a two-day Stravinsky In Focus celebration; major symphonies by Beethoven, Bruckner, Haydn, Schumann, Rachmaninov and Prokofiev; twentieth century music by Elgar, Bloch, Szymanowski, Hindemith, Dutilleux, Lutoslawski and Takemitsu and major choral works including Bach's St John Passion, Beethoven's Missa solemnis and Prokofiev's Alexander Nevsky.
Guest artists this season include the internationally renowned contralto Nathalie Stutzmann appearing as conductor; conductors Alexander Shelley, Nicholas Collon, James Feddeck, Cristian Macelaru and Duncan Ward; outstanding instrumentalists including pianists Federico Colli, David Fray, Denis Kozhukhin and Alexei Volodin, violinists Veronika Eberle and Alina Pogostkina, cellists Leonard Elschenbroich and Alban Gerhardt, the celebrated violist Lawrence Power and Irish singers including Claudia Boyle, Patricia Bardon, Giselle Allen, Rachel Kelly, Robin Tritschler, Tara Erraught, Orla Boylan and Ailish Tynan.
Follow Us:
You Tube
Next Performances
---
Links of Interest